Band back from US for two concerts and a taste of home.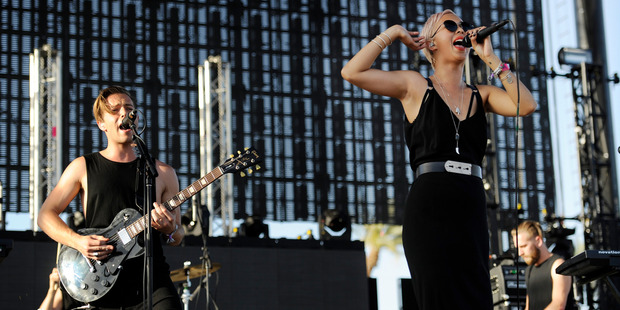 Thom Powers frowns and gazes around the streets of central Auckland with an increasingly desperate look spreading across his face.
No, the front man for The Naked and Famous isn't lost, homesick or weary after months on the road.
Neither is he stressing about this weekend, when the five-piece play two homecoming shows at Auckland's Powerstation.
Turns out Powers just needs a pie.
"You can't get them overseas," he complains. "I've been hanging out for a pie from home for ages."
If anyone deserves a decent pie, it's Powers and the rest of his band of leather-clad Kiwi alt-rockers.
Since their Big Day Out appearance in January, they've grown into reliable and formidable crowd pleasers who have graced some of the world's biggest stages and festivals.
That includes a raved-about evening performance on Coachella's main stage watched by tens of thousands of people at the California festival, and through an online live stream.
It was, Powers agrees, a landmark moment that helped prove the band's shift to Los Angeles for their second album - last year's excellent In Rolling Waves - was the right move.
"We were blown away by that," says Powers.
"When you do it there's a hope that it's a big deal for you. We saw all those reviews - it just felt awesome.
"We were like, 'Wow, what an achievement'."
They've also spent six weeks touring America's biggest stadiums with pop chart-toppers Imagine Dragons, and are in New Zealand after Australia's Groovin' the Moo festival, which included festival giants Dizzee Rascal and Disclosure.
Despite this, Powers says they're on tour so much all band members are currently homeless - meaning they're forced to rough it at times.
"After Coachella I'd forgotten that we had one night in Los Angeles. I was texting my mates going, 'Yo, have you got a couch I can crash on?"'
Live preview
Who: The Naked and Famous
Where: The Powerstation, tonight and Saturday night