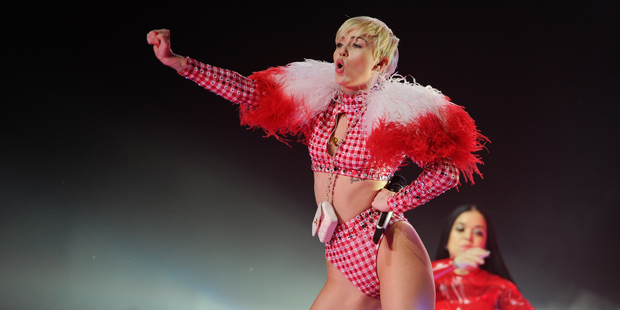 Just in case the images of Miley Cyrus riding a giant, inflatable penis weren't enough to set your hairs on edge, the former Disney star ruffled more than a few feathers during a special one-off show at G.A.Y in London when she cracked a joke about date rape.
"You know, everyone's a little bit gay," she told the very gay audience. "It's the truth. Everyone's gay, all it takes is one cocktail. And if that doesn't work, sprinkle something in their drink. That's what I always do."
As you can imagine, that was probably about as popular as an impromptu show number by Vladimir Putin would have been.
But never-the-less, she twerked on, gyrating with her now-trademark dwarfed backing dancers and performing a sex act on a blow-up doll.
"I'm going to tell those mother******* that broke my heart, particularly one, to suck my fat c***, and to enjoy hearing this song for the rest of your life," she said by way of introducing Wrecking Ball.
Her antics follow a similarly controversial first London show, during which she refuted claims she had been hospitalised because of a drug overdose.
"I didn't have a drug overdose. I took some s***** antibiotics the doctor gave me for an infection and had a reaction," she said.
"You know what makes me a lot better is when people online say, 'you're overdosing on drugs!' I had a really s***** week and those s***** comments made it a lot s*******.
"I already had a death in my family so my immune system was already low."
Whether or not she was referring to the sad passing of her pet dog Floyd, who was apparently mauled to death by jackals, remains to be confirmed.
Her outpouring of grief over the pet culminated in the singer breaking down in tears as she belted out Landslide by Fleetwood Mac at an American concert in April.
- Independent