We trawl through the gossip mags, so you don't have to.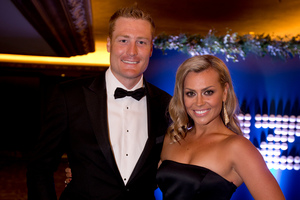 1. Black Cap Martin Guptill might pack cricket in for baseball after a recent trip to New York, according to New Idea. Guptil and his fiancee, Radio Hauraki breakfast host Laura McGoldrick, are just back from a pre-wedding honeymoon to the Big Apple, where they tasted the finer things in American life - including a baseball game. "Everyone gets right into it over there - the spectators are very vocal and the whole crowd gets into their home-team chants, so that's a pretty different experience to cricket," Gutpill says. "I'd love to be out in the middle of the diamond." The pair, who are due to get married later this year, took the chance to do a bit of sightseeing and shopping (he's pretty good at it apparently) and now it's back to the reality of planning a wedding. "There's so much to do. It's not just about the dress, apparently," McGoldrick says.
2. They say marriage changes people, and TVNZ's Tim Wilson is the poster child for what a ring on that finger can do.
Wilson and his new bride Rachel Schryvers admit their newlywed lifestyle to Woman's Day: "We spend our weekends vacuuming, putting stuff away and doing the dishes. It's so fun. Neither of us are tidy, so we decided to give up untidiness for Lent and it's working." Seems Wilson is right when he says his bride is "slowly" domesticating him after years as a bachelor.
3. They deny their relationship is a "broadcast bromance", but The Crowd Goes Wild hosts Mark Richardson and Andrew Mulligan have some good banter with WD. They crack jokes about their own sporting triumphs (and failures), their kids, to what they each bring to the presenting bench: "Mark brings the old-school, slightly chauvinistic 1950s kind of thinking. He thinks like your dad - wrong and wildly inappropriate," says Mulligan. Richardson agrees: "I'm the sports broadcasting version of a Twitter troll!"
4. Not everyone has (slightly tipsy) men offering to cook them "the perfect pork and prunes". But then, not everyone is Kasey and Karena - the winners of NZ MasterChef. A week on from claiming the title, the pair chat with New Zealand Woman's Weekly about their lovely fans, and the first impression they made on the other contestants. "No-one talked to us in the MasterChef house at the start," says Kasey. "We showed up in full make-up - I was wearing this fake-fur vest, heels and thigh-high stockings with a little black dress - and we came toddling in, all like, 'Hi, guys!' so I don't think we were taken very seriously," says Karena. Obviously looks can be rather deceiving.
5. Jennifer Ward-Lealand is Elizabeth Taylor, while Katie Wolfe is more of a Marylin Monroe. Well, that's who the pair, who are involved with the new, Hollywood-inspired play Luncheon, tell NZWW they identify with. While they have both practised their Oscar speeches in the mirror, Ward-Lealand actually got up close and personal with Hollywood stars when she attended the SAG Awards a few years ago; "I wore a fabulous World dress and I got to mingle with the A-listers. Christina Hendricks from Mad Men came up to me and said she loved my dress, and we got chatting. That was my major Hollywood moment. I can die happy," she says.
- nzherald.co.nz