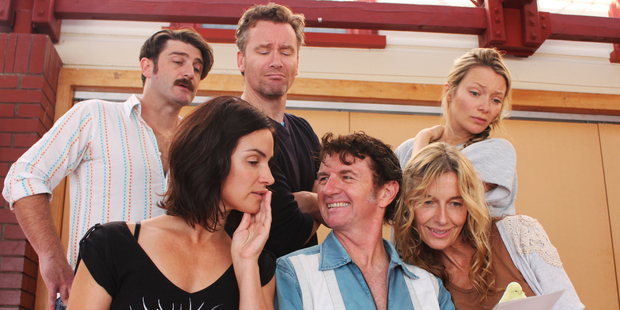 A two-second pitch of this Tadpole production may seem all too familiar to avid Auckland theatre-goers: a 1970s British suburban sitting room drama of brittle couples scratching away politeness while sitting on the inevitable brown and orange couch. However, this early Alan Ayckbourn piece, directed by Adey Ramsel, is far more intriguing than such glibness implies.
Instead of Mike Leigh's nit-picking of specific class differences in Abigail's Party, as seen last year at The Basement, Ayckbourn takes on the souring of love, and social nervousness about death. Either issue could explain the resentful jangling of the characters' interactions, and that helps to give the real-time play an interesting complexity: Does Paul not want to see his old friend Colin because Colin is recently bereaved, or because Paul wants to upset his own wife? Or did he never really like Colin?
The play is full of questions, and it has the good grace to acknowledge that the answers will depend on who's answering. Is the thought of we were happy once an occasion for hope or despair? Does a person have a soft side if they never show it?
Would Colin remember his fiancée fondly if she'd lived long enough for them to get married?
As a play showing an awkward social occasion with a few cringing silences, it drags once or twice death kills the conversation but the satisfying number of often sympathetic characters keeps the audience busy noting different reactions.
The performances are a little uneven, and the women's accents are more firmly fixed than the men's. Katherine Kennard as a woman seeking refuge in the shallows is a stand-out; David Mackie plays Colin with a fabulous gormless, gasping simper. Robyn Fleming's costumes are fun bright and loud without being 1970s theme-park.
One to chew over on your way home.

What: Absent Friends
Where and when: The Pumphouse, Takapuna, to May 18