Real life is all Seth Rogen needs for movie inspiration, writes Leena Tailor.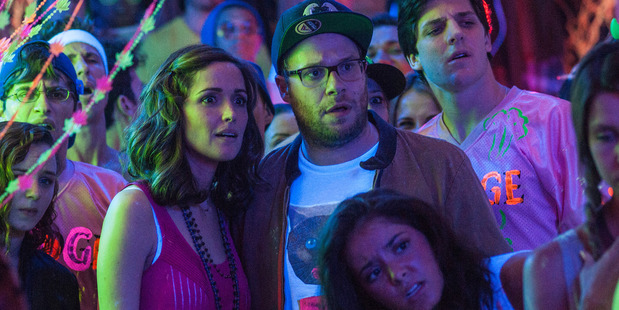 Be careful what you say around Seth Rogen. The comedy heavyweight carries around a notebook to jot down funny stories he hears and, naturally, they often end up on film.
But when that film is his latest flick, Bad Neighbours, there were no boundaries to what might make the cut - for instance, having his character Mac milk his breastfeeding wife, Kelly (Rose Byrne).
"One of our writers had a friend who was with his wife driving back from Coachella and their breast pump broke, so he had to milk her on the side of the road," laughs Rogen. "I heard that and [thought], 'That belongs in a movie."'
It's one of many hilarious but eyebrow-raising scenes in the film, about a young couple adjusting to parenthood when a fraternity led by Teddy (Zac Efron) moves in next door.
The couple is torn between their new parenting responsibilities and the temptation to let their inner party animals join in on the endless frat all-nighters, and quickly become neighbours at war.
Rogen based the couple's relationship on his marriage to actress Lauren Miller. "So often in comedy, couples don't like each other. They bicker and argue. The husband's always hiding what he's doing from the wife and she's always trying to stop him doing fun s***.
"That's not at all what our relationship is like. So we thought it would be great if Rose's character wanted to have fun as much as mine. The fact that they get along well is something that isn't portrayed in comedy."
Byrne, who steals the show in much of the film, credits Melissa McCarthy for paving the way for stronger female roles in the genre.
The 34-year-old Australian star of Bridesmaids and TV's Damages has watched friends grapple with the changes involved with settling down, but says she's enjoying growing older.
"I don't have a family yet, but I've got friends who have gone through that. Getting older you do have more responsibilities, but for me it has been a nice thing.
"I've been fine to not party as hard. I've never had the constitution for it. But examining those pertinent points in people's lives is interesting."
For High School Musical star Efron, the chance to explore a role that contrasted with his Disney image was a welcome change, one his co-star Dave Franco (younger brother of James) likens to "when Channing Tatum did 21 Jump Street - showing this different side of himself and proving he's genuinely hilarious".
Efron was thrilled to work alongside idol Rogen, whether it was in scenes modelling, impersonating Batman or competing in a dance-off, which Rogen describes as "unfortunately-improvised".
One would think the 32-year-old might have picked up some dance skills from boy band the Backstreet Boys when they cameoed in his last movie, This Is the End - which saw the group and Rogen recently win an MTV Movie Award for Best Musical Moment. "I wish I'd picked up some moves from them. I only learned that one dance, then completely forgot it," says Rogen.
"But that was a dream come true. [James] Franco is still furious at me that he wasn't in the scene. He will not stop bringing it up. He really wanted to dance with the Backstreet Boys!"
Bad Neighbours is screening now.