It's been 10 years this week since everybody's favourite Friends said goodbye. Here's a look at what has happened to them over the last decade.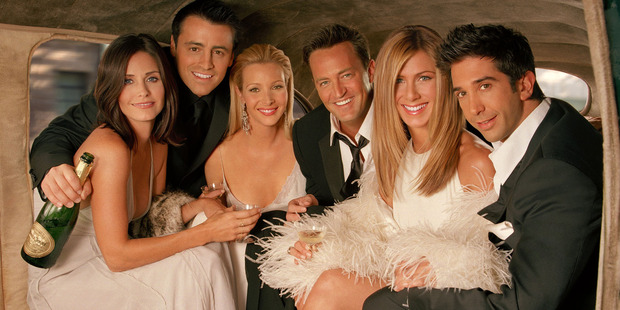 Matt LeBlanc
Good-looking, dim-witted and a hit with the ladies, Matt LeBlanc's lovable lad-next-door Joey Tribbiani was the only Friends star to get his own spin-off show. Unfortunately, Joey was a certified dud, lasting just two seasons over poor ratings and worse reviews. After its cancellation in 2006, LeBlanc laid low for a few years until scoring a role on the really rather good Episodes, in which he plays a womanising, offensive and arrogant version of himself. Well, we think he's just playing.
Matthew Perry
Always ready with a quip, a one-liner or a sarcastic put-down, Perry's Chandler Bing was Friends' funny guy.
But Perry's had little to laugh about since the show ended, with a string of dud guest spots, B-grade films and cancelled TV shows behind him. He also spent time in rehab for addictions to opioids like Vicodin and methadone, amphetamines and alcohol.
He appeared to be on the comeback trail with Go On, an NBC sitcom about a sports radio host that aired in 2013, but it was cancelled after one season.
Courteney Cox
After Family Ties, dancing with Bruce Springsteen, and playing Friends' uptight hottie Monica Geller, Cox appeared to be heading for big screen stardom thanks to her break out role in horror film series Scream. But her post-Friends career has been blighted by a series of made-for TV movies (Battling For Baby, anyone?), cancelled shows, bit parts and a patchy tabloid relationship with her Scream co-star David Arquette. But she has one thing going for her: the sitcom Cougar Town, now into its fifth season and still going strong.
Jennifer Aniston
After marrying (and being ditched by) Brad Pitt, Aniston won the title of America's Sweetheart, or Girl Next Door, or desperate lady trying to get remarried and have a baby, depending on the magazines you read. But the woman who made the Rachel haircut "a thing" has been working too. There have been the mass of romcoms, obviously, but Aniston has also surprised - in Horrible Bosses she was a terrifying seductress of a dentist (they are making a sequel now, so there's that to look forward to), she has produced a couple of made-for-TV movies, and then there was the role as a drug-smuggling stripper in We're The Millers...
Lisa Kudrow
Could anyone forget Kudrow's turn in the tragic romcom (although there wasn't much com) P.S. I Love You? Nah, us either. That aside, the actress who played kooky Phoebe has been the quiet achiever of the group. The highlights: The Comeback, a comedy about a one-time sitcom star trying to relaunch her career with a camera crew in tow (seriously, she and Matt LeBlanc should talk more) and Web Therapy, a show now in season five, in which Kudrow plays a therapist who's bored of hearing her patient's problems. May we recommend some music therapy: "Smelly cat, smelly cat, what are they feeding you?"
David Schwimmer
Ross was the character you could never admit to liking, and maybe David Schwimmer took that to heart. He's rarely been seen over the past decade, but he's has certainly been heard. A year after Friends wrapped, Schwimmer's voice was instantly recognisable as Melman in the animated film Madagascar, and it turns out the step from slightly neurotic paleontologist to shipwrecked giraffe was a pretty good one - since the initial film, he's done it three more times. He's also done some stage work in London and on Broadway, and appeared in Kudrow's Web Therapy. But Schwimmer has really made his home in the director's chair - he was behind some of Little Britain USA, the Simon Pegg film Run, Fatboy, Run, and sadly (for both of them) LeBlanc's Joey.
- nzherald.co.nz