We trawl through the gossip mags, so you don't have to.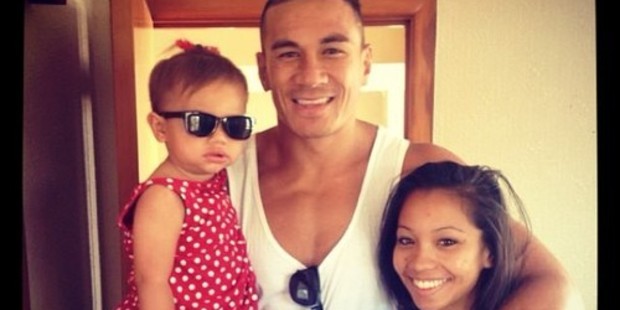 1. It's official: Sonny Bill Williams' wedding is as mysterious as Kim and Kanye's. The league/rugby/who-knows-what-any-more player secretly married his girlfriend Alana Raffie in August last year, but the pair have only just shared the news with the rest of us. And according to snaps in Woman's Day, the happy couple have been taking a break from all the questions (basically just, "is she pregnant") in Bali. And no, you can't see a baby bump under that comfortably loose dress she's wearing.
2. The secrets of MasterChef have been spilled like a carton of milk in WD. Winners Karena and Kasey keep up that "just say everything is great" game plan they were criticised for by fellow finalist Jaimie, (the "We loved living in the house with 30 other people", "We bonded with our competitors over a love of cooking" kind of thing), but the runners-up are a bit more straight up. Jaimie, who competed with pal Bec, reckons the victors "knew how to play the game better than we did" and couldn't wait to tell readers that "Kasey and Karena love takeaways! I barely saw them cook at home".
How much would you want to cook after a hard day of, ah, cooking?
3. It seems even when a wedding is fake - and actually a vow-renewal - it doesn't stop the nerves. At least not for Shortland Street's Sam Bunkall, who plays Boyd Rolleston. The actor, who has never been married, told New Idea about shooting the up-coming scene: "It's quite fun, then all of a sudden you find yourself shaking as you're running through those words and looking into this person's eyes". Sadly Beth Allen, who was on the other side of the exchange as Brooke Freeman, didn't quite feel the same. "I was nervous at my wedding but not at a fake wedding! It was lovely to be in a nice frock though."
4. New Zealand's best dressed women (and men) have been named by the New Zealand Women's Weekly's David Hartnell. The big winner? TV3 newsreader Janika Ter Allen, who Hartnell describes as "a hurricane of fashion...her looks are always sizzling hot". Meanwhile Sir Peter Leitch (aka The Mad Butcher) is the best dressed man with his "tailored casual jackets that compliment his sharply tailored trousers". Other favourites: Jay Jay Feeney, Judith Collins, Lorde, and Ben Boyce.
5. Remember the sixties? Remember The Chicks? The Kiwi singing stars - and sisters - are reuniting after 30 years to "hatch" (thanks to NZWW for making that pun so I didn't have to) some new music. And despite the number of years that have passed, Suzanne and Judy reckon they've still got it. "Everyone who listens to the song asks, 'Are you sure you recorded it last month?' We still sound like The Chicks - we're not quite The Chooks yet," says Suzanne.
- nzherald.co.nz