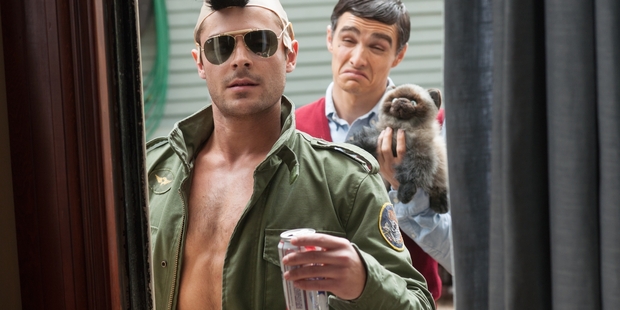 Seth Rogen takes on producing duties for the first time, teaming up with Forgetting Sarah Marshall and Get Him to the Greek director Nicholas Stoller to make this irreverent comedy about growing up.
Bad Neighbours takes a formulaic frat-house comedy and gives it a generational twist when the students next door to a young married couple with a baby.
Writers Andrew J. Cohen and Brendan O'Brien have fun with the narrow age difference between the neighbours; yuppies Mac (Rogen) and Kelly (Byrne) aren't much older. Struggling to accept that a mortgage and a baby have changed their lives, Mac and Kelly are initially conflicted as to whether they'd like to party with the college kids - or get them to turn down their music. It's not long though before sleep deprivation kicks in and they start a neighbourhood war with Teddy (Efron), Delta Psi's president, in an attempt to quieten things down.
Given the talent and plot you can imagine what to expect in this R-rated comedy: yes, plenty of crass jokes about dicks, dope and dildos - but there is more on offer than lowbrow jokes.
For a start, Bad Neighbours should win an award for best use of a car airbag in a movie, ever, and the constant pop culture references, best used in the frat house's Robert De Niro-themed party, adds welcome relief.
And although the characters show glimpses of being mean and slightly psychotic, they are always likeable - because really, Mac, Kelly and Teddy are all dealing with the end of one stage in life and the beginning of another, just a decade apart.
A lot of the success of Bad Neighbours also comes down to the casting, which is superb. Rose Byrne finally proves she's got the comedic chops to match it with the best. It's great to see a strong female character in a naughty comedy who gets to be as ballsy as the boys. Rogen is in typical good form and works surprisingly well with Zac Efron who, with his shirt off for a large part of the film, is in a slightly different kind of good form.
If puerile and sometimes just plain stupid entertainment is what you're after you'll get it here; you'll also get plenty of laughs and have little time to think about how predictably it plays out.
Cast:
Seth Rogen, Rose Byrne, Zac Efron
Director:
Nicholas Stoller
Running Time:
97 mins
Rating:
R16 (drug use, sex scenes and offensive language)
Verdict:
Ballsy, crude, puerile and stupid, but always entertaining
- TimeOut