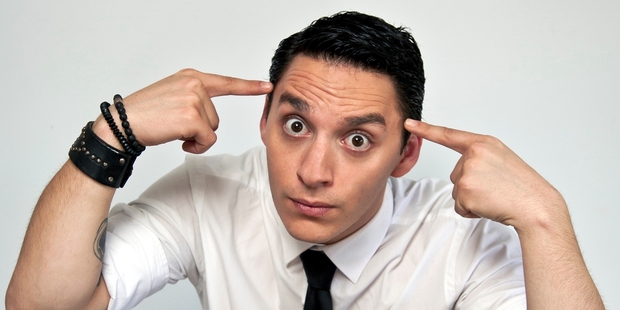 Where have we seen you before?:
TV3 Comedy Gala or the Classic Comedy Bar in Auckland.
My comedy festival show is called:
Fellon.
Due to it mainly being about:
This show is about using magic and body language to break certain laws. The show is filled with comedy and magic which then goes deeper by using and teaching how to pick pockets, read body language to tell if someone is lying or telling the truth.
The idea behind it having been inspired by:
Everyday things ... I notice too much about people I find and I don't want to be just a normal magician. I like taking things to the next level.
Compared with how I am in everyday life the person you will see on stage is:
Oh you see me and only me on stage. I may act a little more enthusiastic on stage, but generally what you see is what you get.
The one thing I worry about most in performing this show is:
Predicting what will happen before it happens. This is always tricky as you have to read the crowd before they're there. Always makes me nervous.
But I think the show is just as funny as:
Laughter itself. Ha ha.
It may not be for you if you're offended by:
This show aims not to offend people, more make people aware of certain things.
But do go to it if your idea of great live comedy involves:
Magic.
Or if you are fans of:
If you are fans of magic, then you would like coming to see a show revealing and mocking those "TV magicians' and want a good time.
Though if you sit down the front be warned:
Everyone could be a victim so just come and relax.
For me, this is NZ comedy festival number:
Six. Wahoo! Can't wait.
Which makes me:
Very excited and nervous, so come and laugh at how nervous I am.
Where/when: Playing: Q Loft at Q Theatre from May 8 to 10.