Mozart to get special treatment under the baton of famous Brit Paul McCreesh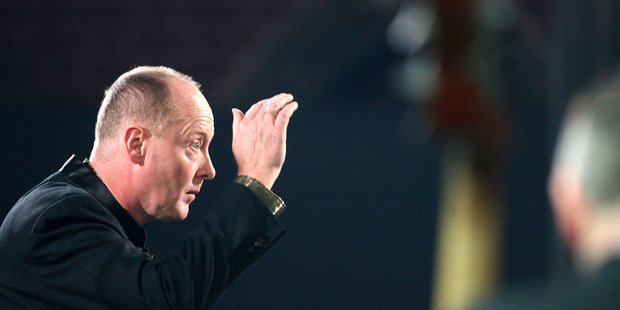 The very famous Paul McCreesh is in town next week for Auckland Philharmonia Orchestra's Mozart and Elgar concert, but a week ago he was in Lisbon, where he holds the post of principal conductor with the Gulbenkian Orchestra.
"It's for administration," he says. "Getting the next couple of seasons sorted out."
This affable Englishman is a star conductor with many prize-winning CDs to his credit, the most recent being last year's A New Venetian Coronation 1595 with the Gabrieli Consort & Players.
He may have founded the Gabrieli ensemble in 1982, but McCreesh winces at being labelled as an Early Music specialist, blaming it on his CD catalogue.
"When you make 40 recordings for Deutsche Grammophon and 30 of them fall into the Early Music category, you do become pigeon-holed."
He considers himself a generalist who "concentrates on the music rather than the noise of the business around me".
"I'm very confident in my own musical judgment," he adds.
"I work hard and think hard about music and that's important. It's interesting how many of my recordings have gone straight up there and won those prizes. I think that's because they've got a strong personality."
Inevitably, this Early Music background must come through next week when the APO opens with Mozart's Adagio and Fugue in C minor, a late work originally written for mechanical clock.
"It's very Baroque," McCreesh stresses. "My instinct is that, back then, it would have been delivered in that style. After all, the older musicians in Mozart's orchestra would have played real Baroque music earlier in the century."
McCreesh shared the stage with Thursday's soloist, Benjamin Schmid, just a few months ago in Lisbon, and has no problem with awarding the Austrian violinist "a lot of Brownie points".
"He's a very classy musician," he adds. "Very stylish and easy to work with."
Schmid is offering Mozart's G major Concerto and McCreesh is a huge fan of this and its four companion concertos.
"What is outstanding is just how much colour the 19-year-old Mozart can find in a single art form," he enthuses. "They're so different. This one has elegance, the D major has brilliance and the A major a wild Turkish feel.
"However, these pieces do require a lot of care," he warns. "Most orchestras can play them quite well standing on their heads in five minutes. But to play them really well, you need to take a little time, get into the style and not treat them as a warm-up for the second half of the concert."
Next Thursday, after interval, the orchestra will tackle Elgar's Second Symphony. McCreesh is an ardent Elgarian. "There is something about this composer that moves me so deeply," he says.
"Elgar is quite the opposite of the stiff, Edwardian, mustachioed man you see in photographs," he continues. "He is such a passionate composer, every bit as passionate as Mahler and probably more so because he never goes for that Mahlerian excess."
The conductor can find "no historical precedent for Elgar in English music" and admires that the composer was "almost totally self-taught. He learnt by playing the violin in amateur orchestras."
As for this symphony, not only is "every note seething with energy" but there is more to this music than necessarily meets the ear.
"As well as that amazing funeral march in the second movement, the score is full of coded references to Alice Stuart-Wortley, Elgar's lover and muse," McCreesh says.
"We may not really be sure that they were lovers in the physical sense, although they certainly were in the emotional sense and that comes through in this music."

Performance
What: Auckland Philharmonia Orchestra
Where and when: Auckland Town Hall, Thursday at 8pm