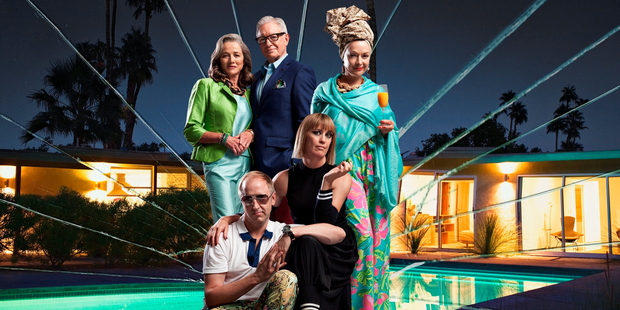 Actor Hera Dunleavy is multi-tasking. She is eating lunch, answering questions about her role in Jon Robin Baitz' play Other Desert Cities and reading - occasionally quoting from - an introduction to the play written by American academic and writer Honor Moore.
In Other Desert Cities, Dunleavy portrays Brooke Wyeth who, after a six-year absence, returns to the family home in Palm Springs to celebrate Christmas with her far-right Republican parents, corporate climber brother, and her liberal (and alcoholic) aunt.
When Brooke announces the pending publication of her memoir, which will reveal an embarrassing chapter in the family's history, hell breaks out.
Being a memoir, her book is written entirely from Brooke's point of view and it soon becomes clear other family members have a different take on events. According to Moore's interpretation, playwright Baitz uses the Wyeth family as a metaphor to reveal "we are in the midst of a cultural shift that challenges us to a higher standard of ethics, to greater courage and honesty in that first society where we all begin our lives: the family".
We are in the midst of a cultural shift that challenges us to a higher standard of ethics.
It's an interpretation that has Dunleavy nodding in agreement and acknowledging that Other Desert Cities raises prickly questions about what happens when we speak our own truths both at a personal and wider social level.
"We've been learning the lines and now we're at the point where we can start mining the emotional depth," she says. "The lines were tricky enough - they have their own rhythm and cadence - but it's the sort of play which is made even more difficult because it starts off being about one thing and ends up being something completely other than what you may have thought."
It's clear that taking one of the lead roles in the Tony and Pulitzer-nominated family drama is a consuming experience.
Dunleavy describes Brooke as a complicated character: the product of a privileged upbringing - possibly the archetypal "poor little rich girl" - who has floated through life, never quite managing to find her place, and easily conflating minor dramas because she hasn't got much else to get worked up about.
Just half an hour after finishing morning rehearsals, Dunleavy will head back to the rehearsal room with actors Sarah Peirse, Elizabeth Hawthorne, Peter Hayden and Adam Gardiner for another few hours of grappling with the play's "whip sharp" dialogue and emotional encounters. The production marks Hawthorne's 90th professional stage performance.
Like Dunleavy, Peirse, who plays family matriarch Polly Wyeth, and Hayden, who portrays father Lyman Wyeth, relish the chance to work with such substantial theatrical fare.
"It becomes clear that the characters are not who they say they are," says Peirse. "The nature of the piece is the conflict between the constructed self and the revealed self. It's clever, highly intelligent, very funny and much more than a family drama."
Hayden says that although the play is set in 2004, it offers a nuanced look back at the Reagan era and its legacy. That it is so American won't matter to Auckland audiences, he says; after all, we are heavily influenced by what America does and familiar with its cultural tropes.
"I do think Americans talk a lot more and are possibly more able to express themselves and drive arguments through in a way we would probably shy away from but the dialogue is whip sharp," he says.
"I love the era, I love the whole context of the play and that there's so much meat in this. Even the title hints at other situations; wars were raging in other desert cities at the time this is set."
There's a pause in conversation when asked whether they can bring their own family experiences to the table.
Peirse answers first, saying yes and honestly admits to having some "humdinger arguments" with her own children; Hayden says you can see in families examples of "combustible chemistry" between parents and offspring, particularly when two people are so much alike; and Dunleavy acknowledges her family holds a wide range of divergent views. "But you don't want to be limited to playing your own experiences," adds Peirse.
So what do they like to imagine the audience talking about after the curtain call? If they have done their jobs properly, perhaps thinking about the anxious, often-superficial and paranoid world we live in and what the cost of truth is - if there is such a thing.
Performance
What: Other Desert Cities
Where and when: Maidment Theatre, May 8-31
Bookings: www.maidment.auckland.ac.nz