Top-selling Paolo Nutini is on a high.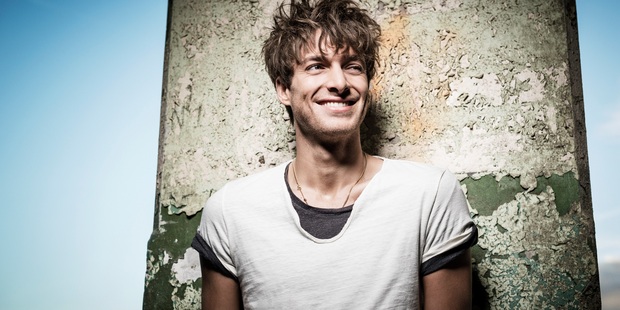 Paolo Nutini has just come off stage in Brussels. He is in high spirits. Just days ago, his third album, Caustic Love, shot to the top of the charts and became the UK's fastest-selling record this year so far, moving more than 100,000 copies in its first week of release.
The truth is, it could just as easily have bombed. It's five years since his last album and the Scottish singer-songwriter knows he ran the risk of being forgotten.
"After the time that I took out, I was curious to see how the transition back into it would be because, you know, you're fighting with a lot of other music."
And even at 27, Nutini's been in the business long enough to know you can't read too much into the charts.
"It looks good on paper, and it means people are listening. But now I've just got to keep it going. It's just the start," he says.
With a gravelly voice that channels the old-school soul masters and hints of Bob Marley-and Terence Trent D'Arby, coupled with an intense and tortured delivery, Nutini's simmering and soulful Caustic Love has nailed it.
He delves into classic funk on Scream (Funk My Life Up) and sends shivers shooting up the spine on the sultry slower tunes Let Me Down Easy and Better Man. But it's the epic ballad Sky Fall that has had everyone talking, including singer Adele, who on watching Nutini's Abbey Road live version of the song, tweeted "F***!!! This is one of the best things I've ever seen in my life hands down."
Nutini broke through in 2006 with his debut These Streets, which he followed up in 2009 with the UK chart topping Sunny Side Up. He says there is no real reason he took so long with the new album, other than he did, because he could.
"It was never like we were on the clock. I was just moving around cities and studios, working with a load of different musicians - some in LA, some in Spain, some in London.
"It was always just very creative and amongst it all, I was just really casual because I was trying to work other things into my life as well. I was keen to keep it fun really."
It meant Nutini could finally make the record he wanted to make.
"Put it this way, it's as simple as this, I'm on a big label and to get the freedom that I got, there was no mystery, I just made them money. I made them enough money so that they didn't really have much to lose and therefore, I just kind of got on with it and it worked.
With the music, I had the luxury of having zero interference."
Funnily enough, Caustic Love could make Nutini's label more money than his two previous albums put together. It looks likely to launch his career further afield than the UK.
It's a prospect that thrills Nutini, who is of Italian descent but grew up in Paisley, thinking he'd follow in his father's footsteps and take over the family fish and chip shop.
He genuinely appears to get a kick out of knowing people are listening to him even at the bottom of the world. And he excitedly points out another reason he is pleased Kiwis are listening.
"I've actually got family in Auckland.
I think I've seen them when I was very young. But I've never been to New Zealand. I hope I'll be there this year. If I have my way, I'll be there."
If the creative freedom the headstrong Scot was given on Caustic Love is any indication, it's almost a given that Nutini will get his way.
Caustic Love is out now.