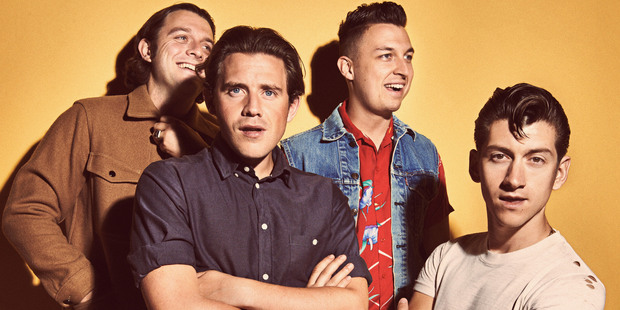 1. Arctic Monkeys Friday, Vector Arena
Seductive desert-rock grooves. Alex Turner's swinging hips. Songs about drinking on the couch until 4am. Yep, I'm going to Arctic Monkeys' show tomorrow night just for Do I Wanna Know? - the opening song from last year's excellent album AM and the track the UK lads have been opening their blistering recent shows with. Those grinding bar-room riffs and Turner's swooning falsetto are likely to be one of many highlights from a band that seems to be peaking after five often excellent albums. Just don't sit down during the show - these rascally monkeys might move your chair. Check back on Saturday for a full review of the show.
2. Reginald D. Hunter Friday, Saturday, Comedy Chamber
Racism, sexism, abortion, religion and Oscar Pistorius - nothing is sacred when it comes to US comedian Reginald D. Hunter's raw routines, and that's why he's my pick for this year's International Comedy Festival. Hunter's five-night Auckland run (his show started on Tuesday, and he performs every night until Saturday's nearly sold-out show) isn't for everyone - he's had internet spats with guests who have walked out on him, and TimeOut's Russell Baillie called his Pistorius routine at last week's Comedy Gala "nasty".
But if you like a serving of controversy with your comedy, this is the show to be at.
3. Only Lovers Left Alive in cinemas now
Here's some bad news for sci-fi fans: With a 19 per cent approval rating on Rotten Tomatoes, Johnny Depp's attack-of-the-clones vehicle Transcendence is a certified dud. That leaves two other options for cinema-goers this week - the first of which is Sunshine on Leith, a movie based on the music of Scottish duo the Proclaimers. Yep, I know. Much more promising is Only Lovers Left Alive, Jim Jarmusch's blacker-than-black vampire flick starring the always awesome Tom Hiddleston and that canny redhead, Tilda Swinton. Sounds like a decent warm-up for Taika Waititi's upcoming vamp-com What We Do in the Shadows to me. Here's our review of Only Lovers Left Alive.
4. Star Wars movie marathon Saturday and Sunday, Event Cinemas Albany and Hoyts Cinemas Sylvia Park
An appropriate number four - Sunday, May 4, is the day Star Wars fans look forward to each year (say "May the 4th Be With You" out loud and you'll get it). Apart from the word play, May is also the month each of the six films in the franchise debuted, starting with the original on May 25, 1977. Plus their creator, George Lucas, celebrates his birthday on May 14. Anyway, this time around - and quite well timed considering the recent news about Episode VII - two Auckland cinemas are screening all six Star Wars films in a movie marathon. Saturday sees the latest releases (Episode I The Phantom Menace, Episode II Attack of the Clones and Episode III Revenge of the Sith) played together, while Sunday has the classic trio. Here's a theory we have about the new film - what do you think?
5. KT Tunstall Saturday, The Studio
If you can't sing at least half the words to Suddenly I See, you obviously haven't yet been won over by the gentle charms of Scottish singer-songwriter KT Tunstall. That radio-friendly hit kick-started the Brit Award-winner's career in 2004, and despite some patchy periods, last year's country-fied turn on Invisible Empire/Crescent Moon earned high praise from reviewers, including TimeOut's Graham Reid, who awarded her fourth album five stars and said it revealed "rare beauty and a heart". Tunstall also plays Wellington's Bodega on Sunday night. Check out our interview with Tunstall here.
- nzherald.co.nz