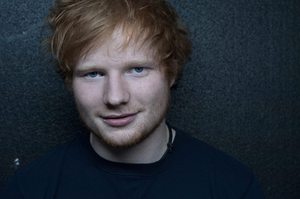 One man, one guitar and one loop peddle is all it took to blow fans away.
Last night Ed Sheeran lit up the stage of the ASB Theatre in Auckland, and not just with his glowing ginger locks. The British songster performed a free iHeartRadio concert for fans lucky enough to have their name drawn to attend the event.
Sheeran opened with a mish-mash of tinny acoustic strums and solos, banging and shredding, accompanied by quick spit lyrics in You Need Me (I Don't Need You). The singer layered up the song till it was a mess of sound only to strip it back down, and just when you thought it had come to a close he would bring it back up again.
His fast paced strumming and looping continued through his usually slow hits Lego House and Drunk, giving the songs a new energy. Sheeran's cover of Nina Simone's repetitive Be My Husband had everyone yelling along, though naturally it was I See Fire that was a New Zealand fan favourite.
It was easy to forget that Ed Sheeran was up there by himself - his skillfully looped harmonies fleshed out almost all of his songs and filled the room as he showcased his amazing vocal range.
Throughout the night Sheeran unveiled four new tracks from his upcoming album X, due out this June. The first of which being Don't, an R&B tinted track that suspiciously seemed to be about his chum Taylor Swift, singing "me and her, we make money the same way; Four cities, two planes, the same day". Of course Ed Sheeran has denied that he could be slamming his BFF - in fact the track is rumoured to be about his ex Ellie Goulding and her supposed fling with One Direction's Niall Horan. With lyrics like "But you didn't need to take him to bed, that's all", it's not surprising.
Then there was the beautiful Tenerife Sea, which sounded like classic Ed Sheeran and had the whole room in a hush.
Take It Back served as a 'You Need Me Part 2', where Sheeran unleashed a rapid reply to all the nasty comments he had received over the last three years. Sheeran sped through the song while claiming that he's "...not a rapper; I'm a singer with a flow, I've got a habit of spitting, quicker lyrics you know".
Finally the night ended with his latest single Sing which could easily be mistaken for a Justin Timberlake song - with Pharrell Williams producing the track, it's almost to be expected. However Sheeran's live performance made the song feel more his own, you could hear his British twang come through, unlike the studio recording which feels almost too polished.
Sheeran was sung off stage with a chorus of Sing's "whoas" from the crowd - but those hoping for an encore were out of luck as the house lights flicked on soon after.
Ed Sheeran and Jeremy Redmore
Where: ASB Theatre, Auckland
When: Wednesday, April 30
- nzherald.co.nz