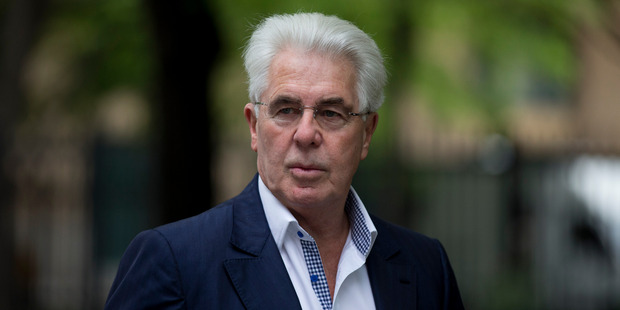 The keeper of a thousand celebrity sex secrets, Max Clifford faces jail after being undone by his own private life, found guilty on Monday of manipulating and abusing teenage girls as young as 15 over a 20-year period.
The publicist becomes the first person to be convicted under Operation Yewtree - the Metropolitan Police's 3 million ($6 million) investigation into historical sex abuse set up after Jimmy Savile's posthumous exposure as a predatory paedophile.
The jury of six men and four women convicted Clifford of eight charges of indecent assault, having deliberated on the case for almost 40 hours across eight days. He was cleared of two more charges, and the jury failed to reach a verdict on another, but this was the downfall of a publicist who spent half a century protecting the rich and famous.
The PR guru's daughter Louise, watching behind her father, remained expressionless as the verdicts were read while Clifford's office manager buried her head in her hands.
Judge Anthony Leonard, QC, warned the 71-year-old that granting him bail was no indication of the severity or otherwise of his impending sentence, which could be handed down as early as Friday.
Liz Dux, a lawyer representing more than 150 people who have made complaints under Operation Yewtree, said: "This verdict proves Yewtree was not a celebrity witch-hunt. Some predatory people used their fame, money and celebrity to groom and then abuse the vulnerable. I hope this verdict sends a firm message - no longer will abusers like Clifford be shrouded in silence. Victims now have a voice and Britain will never return to the dark days of the 60s, 70s and 80s."
Clifford had remained defiant during his trial, dismissing the seven women who said they were assaulted by him between 1966 and 1984 as "fantasists and opportunists" telling "a pack of lies" in an attempt to cash in on the post-Savile climate. His defence team had also criticised the Met for failing in "elementary police work" - yet it was Clifford the jury failed to believe.
One victim was abused several times after Clifford met her family in the Spanish town of Torremolinos in 1977 when she was 15.
She told the court he had impressed her parents with tales of how he could transform her into a star - and how he later abused her in his car. The woman said she considered suicide when Clifford falsely told her he had a photograph of her giving him oral sex, and in 2011 sent him a letter claiming he had made her life "a living hell".
The letter was found in Clifford's bedside table when his home was searched by police.
For someone who has relied throughout his 50-year career on his extensive contacts book, Clifford cut a lonely figure during his six-week trial.
Whereas celebrities Bill Roache, Michael Le Vell and Dave Lee Travis had family and friends by their side throughout their sex offence trials, the publicist shuffled into Southwark Crown Court day in, day out, all alone. His second wife, Jo Westwood, was with him when he appeared at Westminster Magistrates Court last year but did not attend his trial.
Clifford liked to be surrounded by pretty women from an early age and candidly describes his attitude towards sex and relationships in his 2005 autobiography, Read All About It. After losing his virginity during a lunch break, Clifford spent the following summer at a friend's house which quickly became "a den of iniquity".
"Sex became another sport for me," he wrote. "I love women's bodies and the fact every one is so different and I have always wanted to please them sexually. I was sexually adventurous from a young age ... almost anything went. When I look back now at all the risks I took, I realise I could have had all kinds of sexually transmitted diseases but luckily I never have."
A risk-taker prepared for danger is how the prosecution successfully branded Clifford during his trial.
He was described as a master in the art of manipulation and intimidation who used the same pattern of behaviour time and again: bragging about his contacts to naive girls and young women who thought the man in front of them held their careers in his hands. He forced some of his victims to masturbate him in his office, telling them he would put in a good word with a producer or casting agent friend.
The publicist was just 27 when he set up Max Clifford Associates and his office at 109 New Bond St quickly became his "sexual fiefdom".
The jury heard of several occasions when Clifford put on what he called his "gay voice" or impersonated Hollywood stars, when calling models or wannabe actresses, telling women to turn up at his office without wearing any knickers.
His victims, all teenagers, would be encouraged by the "Hollywood identity" to find out Clifford's "Achilles' heel". And when they arrived, he would unbutton his trousers and complain about his "tiny penis".
As Clifford's power base grew, so too did his audacity. Having organised pornography viewings for about 100 men in his 20s to subsidise his pay as a local journalist, Clifford branched out into sex parties for the rich and famous during the 1970s and 80s. He described them as "good, honest filth".
Naturally, he did not go home to his wife and discuss his day. He wrote: "I could enjoy the parties and then go home and enjoy being domestic. I've always been able to separate the various parts of my life."
One ex-mistress among those who became known as "Max's Angels", who was 19 when they had an affair, told his trial that Clifford was a "very kind, very caring man" who said he would never leave his wife.
Clifford used to bet with friends he could walk onto New Bond St and convince women to come up to his office to have revealing pictures taken. In his autobiography, he proudly describes convincing a "solidly built traffic warden in her 30s" to let him take topless photos of her after she said her ambition was to be on TV. Clifford got her a walk-on part on a Freddie Starr show.
The publicist accepted the reason so many people are keen to find out about the sex lives of the rich and famous is partly down to him.
Having used his contacts with madams and prostitutes to satisfy every kind of sexual permutation desired by his clients while also keeping them discreet, by the 1990s he emerged as the go-to man for women dealing with a rampant tabloid press.
Clifford claimed during his trial that his victims were "fantasists and opportunists" who were describing "fairy stories" in a bid to get compensation, but the risk-taking had finally caught up with him.
"I've always said my downfall won't be due to something I'm involved with but something I know nothing about," he wrote in his autobiography.
Yet the man with a jangling set of keys that could unlock thousands of secrets brought about his downfall all on his own.
Max Clifford: Charges and verdicts
Count One, no verdict: The jury was unable to reach a verdict on claims Clifford lunged at a 15-year-old after meeting her at a Wimpy burger bar in 1966.
Count Two, not guilty: The jury rejected the allegation that an 18-year-old receptionist was indecently assaulted in 1975.
Counts Three to Six, guilty: Clifford groomed a schoolgirl for sex in 1977 after promising to make her the next Jodie Foster. Clifford persuaded her parents to let him take her out in his Jaguar, before abusing her.
Count Seven, not guilty: The jury rejected the claim Clifford launched himself on a 19-year-old recruitment worker in 1978.
Count Eight, guilty: A woman who worked as an extra in a James Bond movie kicked him in the groin after he molested her during a lingerie photo shoot.
Counts Nine and 10, guilty: Clifford boasted of his celebrity contacts before pouncing on a teenage model in 1983. He took a call from his wife while he performed a sex act, before ordering the teen to touch him.
Count 11, guilty: An 18-year-old felt "powerless'' to refuse the PR guru's demands to perform a sex act on him.
- Independent