Keyboardist Tom Cowan explains why The Horrors took 15 months perfecting their stunner of a new album.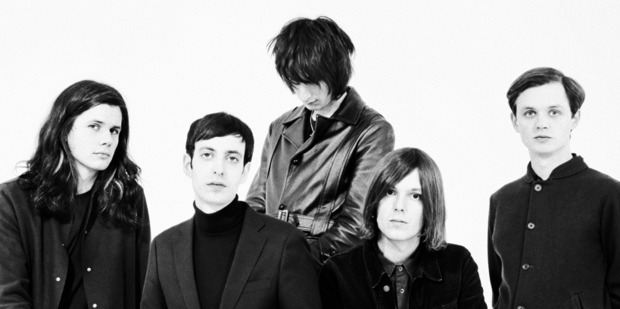 The awkward pauses coming down the crackly phone line aren't due to a lack of things to talk about.
After all, The Horrors' last two albums - 2009's Primary Colours and 2011's Skying - have both been album of the year contenders with their superior drone-rock dynamics thrilling critics and an ever-growing fanbase.
Early reviews of the Brit-rock five-piece's fourth album - including TimeOut's five-star write-up - say they may have done it again with Luminous.
But Cowan, dealing patiently with a crackly phone line and long delays from his London base, tells TimeOut Luminous came at a cost, with The Horrors spending 15 months in the studio struggling trying to find the right "direction".
Was Luminous an easy album to make or were there some bumps along the way?
"We needed new energy. There was an element of, 'What are we going to do?' We've been down so many avenues, we didn't want to repeat ourselves. It took a long time to find a direction. Eventually one came with (first single) I See You. That pointed us the right way."
How would you describe the album to fans who haven't heard it?
"That's difficult because we don't describe the songs to each other - it's just unspoken. But there is an abstract mental image we have: we think the songs on this record are quite intense and technical, like lights twinkling and pulsing through luminous clouds. So when we finally came up with 'Luminous' as a name it kind of made sense."
The album suffered delays amid reports you spent 15 months in the studio. Why did it take so long?
"For the first time we gave ourselves the luxury of time. There are always financial restraints and time restraints (recording an album) but you can push them out. We wanted to make sure we were happy and excited about it. We really wanted it to be a good one."
Did you feel any pressure to repeat the success of Skying?
"We feel pressure from ourselves. We've given up feeling pressure from external forces, there are so many angles to that, so many variables between what that means to achieve. Who are you going to please? Fans? Friends? Critics? As long as we're into it, we're fine, but we're quite hard on it and we can be quite dismissive about things. We're striving to do something good and pressure comes from that. If it's not good enough we want to step up."
Are you perfectionists in the studio? Was it hard to step back and say, 'it's done'?
"A little bit but I think that's a natural thing that anyone doing something creative gets into. It can be tough not having a producer around - there's a lot of pressure on you and there's no one you can delegate to for opinions. We're democratic as a band, we listen to everyone and try every idea. Having your own studio can be maddening, you can be in there as long as you want to."
Any chance you'll tour New Zealand in the near future?
"I think so, yeah. I love it down there. I'm not just saying that - we had a great time last time we were there."
Check out the review of Luminous here.
- TimeOut