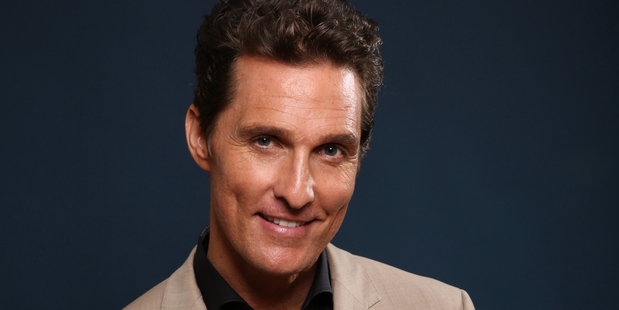 Sometimes I want to meet someone so badly I don't want to meet them. I don't want to meet them for fear of being massively disappointed or even worse ... giggling, shaking or lightly "tinkling".
Matthew McConaughey is certainly someone who could cause a little light bladder leakage.
I interviewed McConaughey for today's launch of The Hits.
I had prepared. They (educators and experts in other languages) say total immersion is the only way to learn a new language and to be able to speak it fluently. If it's a truth, then now I am fluent in a new type of ... something.
I bathed in a pool of the magnificent McConaughey for hours and hours in February. I was immersed in Texas' finest actor.
It started with his unforgettable character Mark Hanna in Wolf of Wall Street and carried on schooling me in 2013's biggest sleeper hit, Dallas Buyers Club.
As you know, that movie saw both him and Jared Leto scoop every statue in Hollywood.
Then he ambushed me when I discovered Soho's super series True Detective, featuring McConaughey and Woody Harrelson.
If you missed that show, then feel robbed. It could be the show of the year and McConaughey's character of Rust Cohle has been named the most "badass TV cop" of all time.
As the interview approached I was intimidated. I don't get intimidated. I was fan girl-ing. I don't fan girl. What if he was not perfect when I spoke to him? What if I giggled or wept like a 12-year-old girl at a One Direction meet-and-greet? (Been to them. It happens.)
What was he like? "Everything and a bag of chips," as my Irish mates in Philadelphia say when something's truly impressive. He was interesting, articulate, engaging and full of pearls of Southern wisdom, and he's sending me a T-shirt. What more could a girl want?
I'm a little in love and totally immersed, and now fluent in the language of "utterly charming".
During my interview, McConaughey admits to being a fan of his own show.
"I think [True Detective] is wickedly good. HBO sent me all eight episodes but I decided my wife and I would watch them [on TV] every Sunday night and have eight weeks of fun and not know what's coming up. I love that show."
Questioned about the chemistry with Harrelson, McConaughey said: "In real life we have a lot of fun together, in True Detective we were at opposition quite a bit but what I was glad to see, and I didn't know, was the brotherhood that comes through between Rust Cohle and Marty Hart and I don't think it would have been there unless it was Woody and I."
Polly Gillespie is from The Polly and Grant Show, on The Hits and iHeartRadio, launching this morning Listen in after 7 30am to hear her Matthew McConaughey interview.