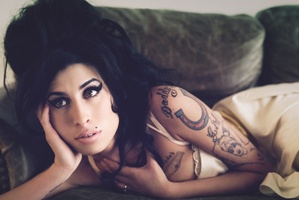 Amy Winehouse's mother has blasted Blake Fielder Civil for being filmed next to the late star's grave.
The Valerie singer died three years ago, and her parents are angry after her former husband recently visited the cemetery - for the first time since her death in 2011 - for an interview.
Janis, who is Jewish, told the Daily Mirror newspaper: "To film beside a grave shows total disrespect. I want nothing to do with this.
"He is entitled to visit the grave, he disrespects our religion by not covering his head and as for an interview in a sacred place that disgusts me.
"He is entitled to grieve but please not in public three years too late."
Meanwhile, Amy's father Mitch later added on Twitter that he hoped Blake hadn't done the interview.
He tweeted: "Blake gave interview at Amy's grave? Please tell me it's not true. (sic)"
According to reports, Blake was seen crying as he spoke beside Amy's grave and revealed he feels "responsible" for her passing.
He said: "I feel responsible for her death ... There's lots of reasons why it's taken me so long to visit. I was scared to come."
- Bang! Showbiz