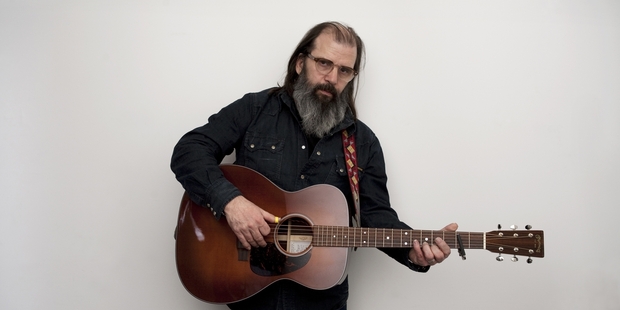 After the first 20 minutes of this concert by country rocker Steve Earle and his band, you might have concluded that - shoe-gazing indie groups aside - here was one of the most emotionally detached and disengaged shows in many years.
Singer/fiddle player Eleanor Whitmore remained utterly expressionless throughout and Earle seemed bereft of any stage charisma. He looked like a man doggedly going through the motions one more time.
That his vocals were mixed far too low and he seemed to have a careless disregard for clarity meant opener The Low Highway - a lyrically important statement and one of the best songs of recent years - came off as perfunctory, as did 21st Century Blues and the brittle rock of the angry Calico County which followed. If you weren't familiar with these they'd have been lost on you in a barely audible and enunciated drawl, and you'd be wondering why all the fuss about Earle.
The night had also started with a curiously flat opening set by the Mastersons - the duo of Whitmore and guitarist Chris Masterson of the Dukes.
She has a classic country voice and there were engagingly interesting harmonies but - with the exception of Good Luck Charm - few songs of distinction.
From the start, this much anticipated return bout by Earle looked like slipping away.
And then, with an appreciable improvement in the vocal sound, everything turned with his dark, spare and Costello-like ballad I Thought You Should Know, which he back-ended with a quip before kicking into a bracket of New Orleans and Cajun-influenced songs, then the moving After the Mardi Gras, and a shift to electric piano for Pocketful of Rain (which he announced with a comment on his drinking years).
By the midpoint of the two hour-plus show, Earle had become the dry, engaging and committed performer his loyal audience expected.
From then on, if there was no consistent upward trajectory towards the two encores, his powerful songs carried the night: the country storytelling of Ben McCulloch; an outstanding duet with Whitmore on the bluegrass I'm Still in Love With You; the moody Invisible (about the homeless, again prefaced by a pertinent personal anecdote); the crowd-pleasing Guitar Town and Copperhead Road from his back pages.
During Billy Austin, his heart-stopping story of a man on Death Row, you might have heard a pin drop - beyond the inane and inappropriate whoops, inarticulate drunken shout-outs and audience chatter from the bar.
Towards the end he complimented New Zealanders on their liberal political and environmental stands then fired off The Revolution Starts Now. It was ragged but terrific.
You just wish it had started earlier.