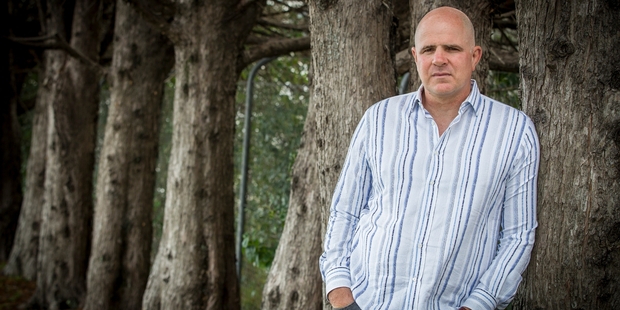 He's the brains behind several of New Zealand's favourite TV sports shows, including Sports Cafe and The Crowd Goes Wild. He counts Blues coach Sir John Kirwan as one of his oldest friends and for more than 20 years he was married to TVNZ sports journalist turned PR impresario Cathy Campbell, before her death from a brain tumour in 2012.
This month Ric Salizzo's latest project hit our TV screens: rugby show Engage, hosted by Scotty Stevenson and featuring rugby legends Jeff Wilson, Josh Kronfeld, Justin Marshall and Andrew Mehrtens.
Salizzo can't believe his career luck has lasted. "I've had my tough times but I've had a very charmed life. I used to be the media liaison officer for the All Blacks - the first one they'd ever had, to the point that when I was given the blazer with my job title on it, they spelled it wrong.
"And I work in sports television, on shows that make me laugh, even if I'm having a bad day, which I am so thankful for.
It's a competitive industry, but it's a lot of fun. We have our days when things aren't great - who doesn't? But where I was growing up in Otahuhu, people had jobs at the freezing works. That really is a tough industry.
"I love what I do. It's what gets me up in the mornings, which is saying something, because I'm really not a morning person."
It obviously isn't all luck - Salizzo, 51, is a great storyteller. The interview is peppered with anecdotes - from his time at Cornwall Park Primary School with future Prime Minister John Key (apt because, as a child, Salizzo wanted to be prime minister), the reference Kirwan wrote him for playing rugby abroad ("John told them, 'Ricardo knows exactly what to do on the rugby field. He just isn't always on the right place on the field to do it'.") and the review he got after his first TV appearance reading the sports news.
"Herald reviewer Barry Shaw said I had a face like a red rubber tyre, and it wasn't so much how I should get out of TV, but how I ever got in there in the first place."
But there is a deep grief that the mother of their son Carlo, is no longer with him.
"The past couple of years since Cathy's death have been very tough, but that's something I deal with in my own way.
"Of course it has changed me - you don't go through something as tragic as that without learning and changing.
"Cathy and I started in journalism together about the same time - she had about six months' seniority on me, which she made sure she reminded me of. She was a much better presenter than I ever was."
His new TV show is about giving viewers a glimpse of rugby through the eyes of the professionals.
"When I became media liaison officer for the All Blacks in 1992, I thought I knew everything there was to know about rugby. How wrong I was," says Salizzo, who played rugby professionally for Italy's Casale Rugby Club.
"I vividly remember walking into the tea room and listening to the players talking and realising that compared to them, I knew nothing. This show is about seeing the game through their eyes."
But don't expect your rugby education to be delivered with a straight face. This is, after all, the man who is credited at the end of The Crowd Goes Wild as "high commander".
"I don't like to take life too seriously. I mean, it's sport.
"In my shows, if someone's being interviewed but his Hawaiian shirt is so loud it's all anyone is talking about - that's what the presenters will talk about, too."
• Engage, Sky Sport 1, 8.30pm Thursdays.