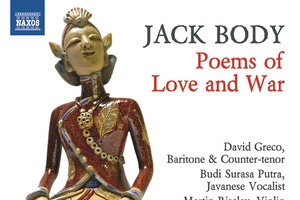 Jack Body: Poems of Love and War (Naxos)

Verdict:
A fascinating survey of one of the most original voices in New Zealand music
Jack Body's Poems of Love and War is particularly welcome with the University of Auckland School of Music's tribute concert coming up on Wednesday and, two days later, the New Zealand Symphony Orchestra bringing us his 1985 Little Elegies.
Body is a Wellington composer and one of our most individual musical voices; he has had Auckland triumphs such as last year's Songs and Dances of Desire but this NZSO album allows us to enjoy a wider sampling of his output.
As might be expected, the Near East is a powerful presence, with settings of Japanese and Javanese texts, a response to Cambodia's grim past and extracts from Alley, Body's opera on the life of Rewi Alley in China.
For a composer who puts such store on communication, it is significant that four of the five works feature the human voice. The fifth, Meditations on Michelangelo, passionately rendered by violinist Martin Riseley, draws on the Italian poet's deeply philosophical (and homoerotic) sonnets.
Three Alley arias have Australian singer David Greco catching the hero's sometimes tormented reminiscences with skilful shifts from baritone to countertenor, against some of Body's most evocative scoring.
Texts would have been welcomed for these arias in an otherwise informative CD booklet, and I suspect that an ideal performance of My Name is Mok Bhon would include Body's own Cambodian photographs which were screened at its 2009 premiere.
Mok Bhon mixes the sinister with sadness and serenity, a soundscape in which alto saxophone and oboe thread their wistful duets against the ominous thrash of pizzicato.
Palaran: Poems of Love and War is the most overtly non-Western piece, with the extraordinary Budi Surasa Putra floating his expressive vocals over brilliant orchestral textures, lovingly tended by the NZSO under Kenneth Young.
I like the way the disc ends, in Body's own 70th year, with his 1985 Poems of Solitary Delights originally written for Douglas Lilburn's 70th birthday.
Its spirit of whimsy bordering on the fey is deliciously caught by narrator Robert Easting. And tenor Amitai Pati adds the perfect burst of lyricism to complement the pleasures so elegantly laid out.