A race to find the New World tests boundaries, finds Stephen Jewell.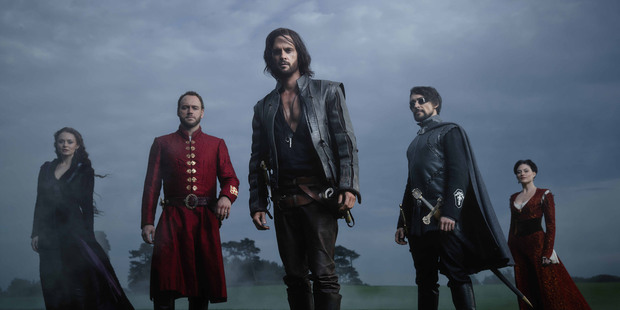 From an early airplane to a prototype calculator, Leonardo Da Vinci is credited with dreaming up many modern technologies. But Blake Ritson, who plays the Italian Renaissance man's arch-enemy Girolamo Riario in Starz's hit historical fantasy series Da Vinci's Demons, wishes he had come up with something a little more mundane.
"I'm waiting for him to invent velcro," he laughs. "That's my personal plea because when you have to go from wet to dry, you spend a lot of time putting on our boots in the morning."
Having appeared in numerous British period dramas, including Upstairs, Downstairs and Emma, the London-based actor is clearly relishing Da Vinci's Demons' more playful attitude towards history, which has much in common with Game of Thrones. "There will always be a market for big, ambitious shows where you don't know what's going to happen next," says Ritson.
"There's a bit of Game of Thrones in there in having different worlds that co-exist then flashing between them. But Da Vinci's Demons is very much its own entity."
Set in 15th-century Florence, but mostly filmed in South Wales, Da Vinci and Riario venture way beyond the bounds of the Lorenzo de Medici-led republic in season two as they set sail for far-flung Peru.
"Structurally, the characters go off in four different directions," explains Ritson. "There's some new alliances as characters that you wouldn't expect to team up are forced into these uneasy partnerships. One of the main thrusts is the Book of Leaves, this arcane compendium of forgotten knowledge that Leonardo and Riario believe could change the whole socio-political landscape of the world. So we drive across the Atlantic, racing to the New World.
"Some interesting things happen as we're pushed to breaking point, which is another characteristic of the series. Physically, mentally and spiritually, we get a glimpse into the dark recesses of the souls of a lot of characters and we fill in some of the gaps we hinted at in the first series."
Having left his stronghold behind him, the ruthless papal envoy finds himself out of his element. "In season one, Riario was very much in his milieu," says Ritson. "He was largely rather cool, calm and collected as he had the support of the Vatican military, financially and politically.
"This season he's catapulted out of that as he almost goes AWOL. When he reaches the New World, he's way out of his comfort zone so we begin to see a new emotional rawness and a new ferocity to him. There's even an amorous side to him, which is a surprise to everyone."
Known for his lavish line of suits, Riario will be updating his already impressive wardrobe. "He has a slightly new look this year as he's gone a bit more Japanese, which is inspired by 15th-century Samurais," reveals Ritson, who will also keep the distinctive eyewear. "Does he still wear the sunglasses? Of course he does! They're Riario-bans and they're back in town. It may be a spoiler but I think he has started a trend."
Da Vinci's Demons returns for a second season at 8.30pm this Thursday on The Box.