Paul Ego is putting pedal to metal in a solo show, says Barney McDonald.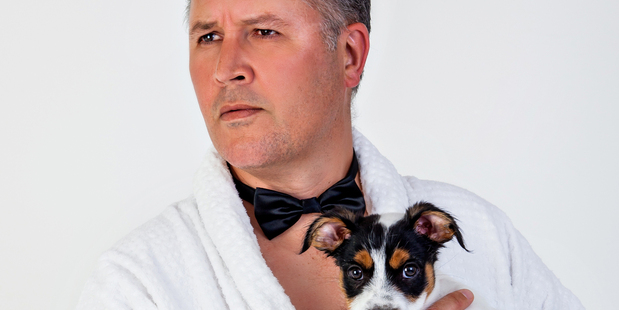 Interviewing comedians is a perplexing task. They are funnier, smarter, faster and occasionally better-looking than your average journalist. In fact, looks can be deceiving, which is the case with incumbent 7 Days panellist Paul Ego.
If you judged a comedian by his choice of shirts, Ego could easily be mistaken for a flamboyant lawyer in a middle-age crisis. Then he opens his mouth and all manner of clever one-liners, anecdotes and put-downs stream forth from his rosy cheeks, and it's obvious this man is funny. And not just funny peculiar, though he might enjoy being thought of as just a little odd.
The Rosencrantz to fellow panellist Dai Henwood's Guildenstern, Ego bubbles with mirth, eagerly and earnestly playing the merry prankster on New Zealand's favourite local comedy.
Into his fifth season of 7 Days, Ego has boldly and resolutely ventured forth to take his comedy on the road again, joining the 2Degrees Comedy Convoy tour of 10 New Zealand cities, as well as presenting his first solo show in five years during the annual comedy festival. Clearly with Ego, if it's raining it might as well be pouring.
"I've never been a comic who sits down and writes material," he admits. "My creative process is usually riffing on an idea with an audience live on stage and hopefully that develops into a bit I can then flesh out into something larger.
"It wasn't until I left breakfast radio [Morning Rumble on The Rock] in 2011 that I had the energy to get back into live gigging again. Once I did that, and with the success of 7 Days and the 7 Days Live Tour, I was able to get my stage time back up and birth the material that makes up this new show."
Ego, who was born 48 years ago as Paul Jones but made his performing name a variant of a childhood nickname, began his comedy career in London in 1994 at the urging of friends and family, including his wife of 25 long-suffering years, Janine.
"They pushed me into comedy in the first place so they must think I have something going on," he laughs. "Plus, the more I'm out doing live shows or 7 Days, the less I'm at home annoying them."
The biggest surprise to Ego is that people find him funny. Even more surprising to him is that he can make a career out of making them laugh.
"I'm constantly thankful," he blushes. "But I'm also very grateful for the incredible gift I'm wasting."
Some of that wasteful gift will be on show when Ego hosts British comedians Markus Birdman and Carl Donnelly, alongside fellow Kiwis Justine Smith and Jared Fell, during the Comedy Convoy. As luck would have it, this isn't an attempt to breathe fresh life into Bill Fries' 1975 hit Convoy or the 1978 Sam Peckinpah movie based on the song. There isn't even a truck in the show, let alone a Rubber Duck, Pig Pen or Sodbuster cruising too slowly in the fast lane for David Cunliffe's liking.
"A comedy convoy is identical to a convoy except none of the comedians are trusted to drive anything," jokes Ego. "We do eat like truckers though. In fact the last truck stop we ate at I ordered the rubber duck. I'd give it a 10 out of four."
Pop culture jokes aside, the only thing high-octane about the convoy will be two hours of "well-oiled international and Kiwi comedians" doing stand-up between Auckland and Invercargill. As host, Ego has limited space to flex his comedic muscle, leaving his one-hour solo show as the best opportunity for fans of his subtly anarchic sense of humour to sample his wares. Calling the show Amazingballs certainly sets the bar rather high.
"Well, first of all, it's Amazingballs; the way it appears in the New Testament," he insists. "And if we never bit off more than we could chew the game Chubby Bunny would never have been invented. So there."
For a man who admits he "finds comedy exhausting", Ego has put pedal to metal and is in serious danger of being considered an over-achiever.
Should host-with-the-most Jeremy Corbett be worried about losing his seat on 7 Days? Always let the comedian have the last word.
"Hell no! I'd never want to sit in anything he's been sitting in anyway. Yuck. It'd be warmer than two degrees too, I bet. I'm actually feeling quite sick thinking about it, to be honest."
Amazingballs runs Wellington April 29-May 3 then Auckland May 7-10. 2Degrees Comedy Convoy hits Nelson, Christchurch, Oamaru, Invercargill, Palmerston North, Auckland, Hastings, Hamilton, New Plymouth and Tauranga from May 13-25.