Another comedy festival questionnaire asking the acts why we need to see their shows.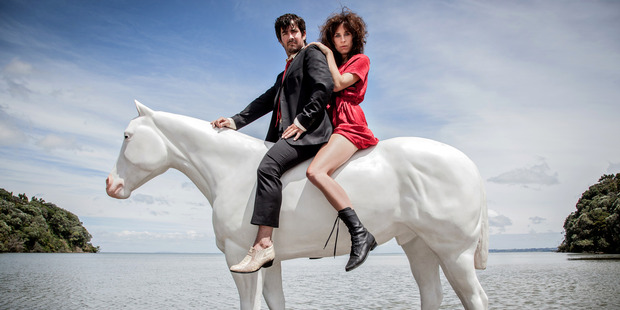 Where have we seen you before?
JB: Jackie Brown Diaries, How To Meet Girls From A Distance, Sugar & Spice comedy duo and My Brother and I are Pornstars.
JVB: I was in a show called My Brother and I are Pornstars a few years back. Been on the telly in Best Bits this month also in Rhys Darby's show Short Poppies - although I was made to wear a box over my head.
Our comedy festival show is called: Flashdunce.
Due to it mainly being about ...
JB: My successful audition for the New York dance company.
JVB : It's a sketch show and nothing to do with the movie Flashdance although there is a two minute dance number and we may still make a sketch about welding.
The idea behind it having been inspired by ...
JB: I would dance like I've never danced before and they would love it so much they would make me their lead.
JVB: Jon and I ... figured a sketch show would let us do it all without having to fight over the best idea.
Compared with how I am in everyday life the person you will see on stage is ...
JB: Tall, mysterious and dangerously smart.
JVB: Mildly more attractive.
The one thing I worry about the most performing this show is ...
JB: That someone will take me seriously.
JVB: Jon.
But I think the show is just as funny as ...
JB: Heaven
JVB: Rose Matafeo's show last year.
It may not be for you if you're offended by ...
JB: Sexist stereotypes and culture deficiencies
JVB: Bad language, bad accents, and horses.
But head along if your idea of great live comedy involves ...
JB: Life and death domestic banalities.
JVB: Dysfunctional love stories - with jokes.
Or if you are fans of ...
JVB: Tina Fey, Will Ferrell, Chris Morris, The Mighty Boosh.
Though if you sit down the front be warned ...
JB: You will get an unprecedented view.
JVB: Smoke, sweat, Jon losing his balance.
For me, this is NZ comedy festival number ...
JB: Seven.
JVB: Two.
Which makes us ...
JB: Festive
JVB: Busy doing other things since my last show eight years ago. God has it been that long?!
Where/when: Basement Theatre, Lower Greys Ave, Auckland, April 25-May 3.