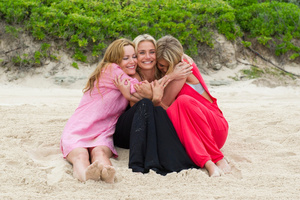 This new chick-flick comedy by the director of weepy hit The Notebook is all bark and no bite.
Nick Cassavetes spends much of the film setting up the premise about three women being cheated on by the same man and not nearly enough thought on the revenge plot. The fun is found in exaggerated emotions and actions.
After her bitchy turn in Bad Teacher, Cameron Diaz is ripe for more roles that mine extreme behaviour. Sadly, Cassavetes and scriptwriter Melissa Stack fail to deliver the goods, leaving Diaz reverting to type. Leslie Mann as the wronged wife fares better, ramping up the physical humour, while cheating hubby Mark (Nikolaj Coster-Waldau) transcends his cardboard character only when the wheels come off his wheeling and dealing.
Add to the mix a plethora of cheesy songs, including Lorde's tedious Royals, plus a surprisingly palatable performance by Nicki Minaj, and this is a comedy of disparate highs and predictable lows.
M; 109 minutes. Out now.