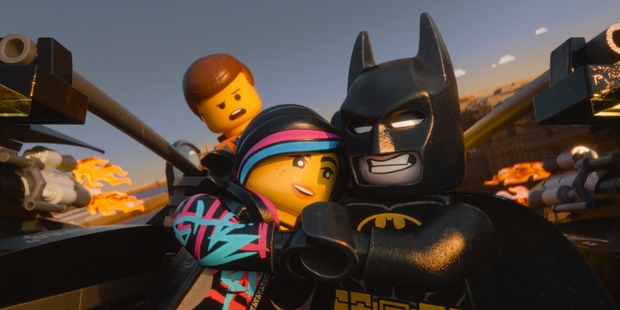 Living with a seven year-old boy obsessed with Lego means I've been subjected to some pretty average made for DVD Lego films, so I wasn't thrilled at the prospect of Lego's first proper 3D animated full length feature film.
What do you know - it's awesome. And "awesome" is a word you should expect to hear a lot in coming weeks, thanks to opening song Everything is Awesome, an incredibly catchy and annoying track kids will sing endlessly.
Like the movie as a whole, it manages to combine the perky, positive and fun Lego ethos with a tongue-in-cheek, satirical humour that keeps both kids and adults entertained.
After the opening about the awesomeness of working as a team, the next thing to hit you is the fabulously detailed and colourful CGI visuals. Lego consists of figures with limited movement and worlds built from blocks, so directors Phil Lord and Christopher Miller have done an exceptional job bringing the characters to life and creating imaginative settings, aided by a wonderful cast and witty script.
There are two character types in this film, just as there are two types of Lego builders in real life; those who follow the instructions perfectly, and those who like to make it up themselves. Our hero is the delightfully hopeless Emmet (Chris Pratt), an everyday guy and construction worker who obediently follows the instruction book, living his life by the rules set down by obsessive compulsive perfectionist President Business (Will Ferrell).
Emmet accidentally discovers the missing piece of "resistance", making him The Special One. Only the special one can stop President Business from destroying the last of the Master Builders, those who like to make up their own rules and creations. He partners up with spunky Master Builder Wyldstyle (Elizabeth Banks) and her boyfriend Batman (Will Arnett), and other characters better equipped than him to stop President Business, such as the Green Lantern, Wonder Woman, Superman, Gandalf and the wacky Unikitty.
The Lego Movie starts fun and frivolous, with fast-paced one-liners slung between cool characters, but it evolves unexpectedly into something much more thoughtful and emotional. Though there are hints throughout that there's more depth than meets the eye, the pumping soundtrack and kooky characters initially masks their relevance and a clever and insightful conclusion.
What's most impressive is this is not a feature-length film filled with product placement, instead it embraces what parents and kids really love about Lego; creativity, imagination and individuality. Or, as my seven year-old simply said, "awesomeness".
Cast:
Liam Neeson, Morgan Freeman
Directors:
Phil Lord & Christopher Miller
Running Time:
100 mins
Rating:
PG (Low level violence)
Verdict:
A creative, fun, sassy action comedy for parents and kids alike.
- TimeOut