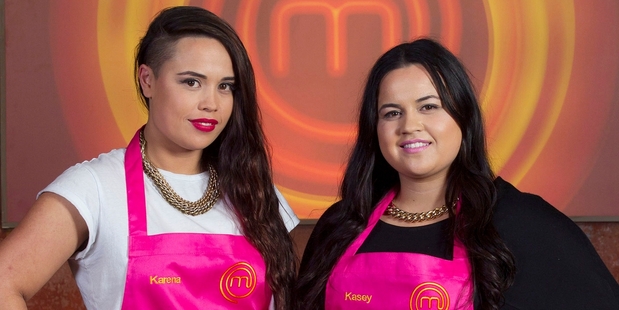 On TV hit MasterChef NZ, they're cool and calm, showing a mastery in the kitchen from of a lifetime spent cooking with their close-knit Bay of Plenty family.
At Elizabeth Cafe and Larder in Tauranga, it's no different.
When sisters Karena and Kasey Bird are not wowing celebrity judges and TV audiences as one of four remaining duos in MasterChef NZ or busy doing publicity for the top-rating show, they're sharpening their skills with work experience at the trendy cafe.
Karena and Kasey, from Maketu, have attracted a huge following with their easy, sisterly charm and amazing culinary skills, honed around extended family dinners.
MasterChef judges have marvelled at their dishes and vowed to visit the whanau for a lash-up feast of seafood and other local delicacies.
Elizabeth Cafe has hosted the sisters for work experience on eight or so days since February, said Andrew Targett, who started the business in 2012 with Jo Brown.
Karena and Kasey both knew they still had plenty to learn, despite working on television and in the company of judges Ray McVinnie, Josh Emett and Simon Gault.
"[The show] is quite scripted, and from a cook's point of view, you're always learning," Targett said.
The sisters would look through his cook books, and the trio would decide which recipes could be blended to make a new dish. He would then set the task, and they would deliver.
His favourite so far was a crispy red braised chicken, carrot and radish salad with sticky rice and a sweet and sour ginger sauce which was chosen as the lunch special on March 5. The complex dish has up to 30 ingredients, including a master stock for intense flavour.
Karena and Kasey have won fans for their laidback style, and Targett said the pair were just as popular at his cafe. If money was no object, he'd give them a job. "They're very humble, wanting to learn; they listen, they're excited about food."
He wasn't sure when they would be back, or what their plans were.
Filming has ended on MasterChef NZ, but contestants are contractually bound not to say who has won the $100,000 worth of prizes and a MasterChef cookbook deal.
On TV One tonight, the remaining four duos tackle an Asian cuisine challenge at Club Med in Bali.