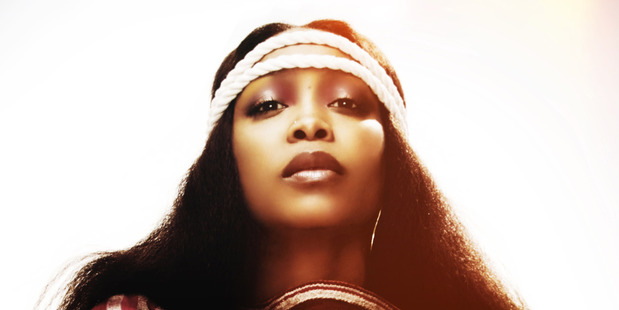 The Civic might be a seated venue, but that didn't stop plenty of the crowd from getting their groove on as soul sister Erykah Badu shimmied her way through more than two hours of RnB and hip hop influenced nu-soul from across her 20 year career. The diverse audience was on their feet right from the opening chords 20 Feet Tall, which brought Badu on stage, and they jumped up and down throughout the evening, eventually filling aisles, and creating a sweaty circle of gyrating hips and waving arms in front of the stage.
They had been well warmed up be opening act Estere - the young lady-funk diva from Wellington who produced a wonderfully joyful, effervescent set of songs with just her MPC (called "Lola") for accompaniment, and some of the best on stage dance moves the Civic has ever likely seen. She definitely had tongues wagging in the bar and bathroom after her captivating performance.
But when Badu herself arrived, wearing dungarees covered by a cream coloured batwing poncho emblazoned with "Mandela 94" (possibly a reference to Nelson Mandela's inauguration as President in 1994), a sequinned cloak, and a very tall black top hat, there was a palpable increase in excitement, and it never really wore off.
She was strong, irreverent, and seemed to be having an absolute ball, as she swung in front of the mic stand, flanked by her own MPC/laptop/drumpad/percussion set up, and backed by her band made up of three backing vocalists (including her younger sister Nayroc), drummer, keys player, bassist and DJ.
And she brought her A-set, swaggering through The Healer, getting the crowd singing along to On & On as she busted out a cowbell solo, and swinging straight into & On immediately after. She mashed up A Tribe Called Quest's Bonita Applebaum with hit track Love Of My Life, and brought out her sultry croon for Umm Hmm.
Taking us back to her 2000 album Mama's Gun, "Who did you love in 2000AD?" she called out before breaking into Time's A Wastin, and then promptly answered her own question by giving a shout out to Andre3000 - the man she loved in 2000, who is the father of her oldest child, and remains a close friend.
"I love Andre, because he is my baby daddy, and because that was a very special time for my music, being able to collaborate with Outkast." In honour of their reformation, and upcoming world tour, she then broke into Liberation.
A few members of the audience had been calling out for Call Tyrone at various intervals throughout the evening and they were kindly rewarded as the show ticked past 90 minutes, but when they failed to burst into the chorus at the right moment, Badu got her best mom voice out, and chastised them everyone for their lack of readiness. "Sydney was ready! When I played in Sydney they lost their s***, they were screaming it from the roof. It was a madhouse. You guys have been calling out for it all night, and when we get to it, y'all aren't paying attention. That was embarrassing" she said slyly, as the audience collapsed in laughter.
Fortunately, everyone was paying attention the second time, and the roof was raised.
She only disappeared briefly before returning for the encore, her band remaining on stage to keep everyone grooving, and she still had plenty of hits in her arsenal to fire.
Bag Lady definitely got the crowd jumping, and when Badu gave the microphone to a front row audience member, Amy, everyone had to holler in appreciation as she belted out two perfect choruses. Things even more heated as she bounced through Pump It, so when it came time for Window Seat it almost looked as though Badu would re-enact the controversial video, as she began shedding clothes - but she kept the dungarees on in the end.
It looked like she was going to finish with love-triangle ballad Next Lifetime, but she clearly didn't want to leave the stage, so she pulled a keen dancer from the audience, and broke into booty-shaking, pounding hit Danger, which ended with Badu doing headspins on the floor. That didn't feel like the right place to leave things either, so she lead the band into an extended version of soulful groove Didn't Cha Know, and turned it into a self-empowerment ballad to finish.
Badu's often sociological, analytical, political lyrics, which turn quickly between heartfelt and wry, rang out easily, her voice to the fore, despite a booming volume level throughout, and she conducted her band with finesse, leading them through jams, solos, break downs, and dynamic changes, perfectly matched to a tight lighting show.
She proved despite her age and tenure, she's still very much the reigning queen of nu-soul, powerful and compelling in person, and damn happy to be on stage.
Erykah Badu
Where: Civic Theatre, Auckland
When: Thursday April 10
- nzherald.co.nz