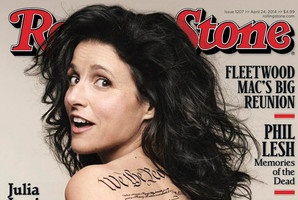 Julia Louis-Dreyfus says she was in a "drunken stupor" when she was photographed naked for the cover of the latest Rolling Stone magazine.
The Veep star appears on the cover of the April 24 edition of the magazine under the headline, "The first lady of comedy".
A naked Louis-Dreyfus, who appeared in nine seasons of America's biggest ever sitcom Seinfeld, has words from the American Constitution written on her back - a reference to her role as US vice-president Selina Meyer in her latest comedy Veep.
But there's a glitch with the faux tattoo of the US constitution signed by John Hancock across her back.
The problem is Hancock signed the Declaration of Independence, not the constitution.
Louis-Dreyfus jokingly blamed the blunder on Mike McClintock, the fictional Veep character played by Matt Walsh who serves as communications director on the HBO comedy series.
''Yet another Mike (expletive)-up,'' the 53-year-old actress posted on Twitter. ''Dummy.''
Rolling Stone spokeswoman Melissa Bruno said the Declaration of the Independence is on the other side of Louis-Dreyfus' body, but they couldn't fit in the signatures.
Earlier, the television comedian tweeted her naked cover image, saying she was in a "drunken stupor" during the photo shoot.
In my defense, "I was in a drunken stupor" #crackexcuse http://t.co/Jo0HgFtpho cc: @RollingStone pic.twitter.com/f7SFgCsHBO

— Julia Louis-Dreyfus (@OfficialJLD) April 8, 2014
Excerpts from the interview include Louis-Dreyfus discussing the amount of swearing on Veep, how her role in the show scored her a meeting with Al Gore, and she also addresses internet rumours that she's a billionaire.

She also addresses claims of sexism in the television industry, saying: "There is sexism - I'm not denying its existence. But I'm saying that I will deny its effort against me. I just pay it no nevermind and say, 'Get out of my way'."
The third season of Veep starts tonight on SoHo.
- nzherald.co.nz