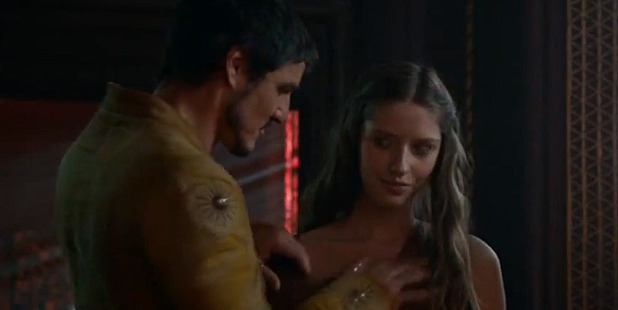 A prince strips a posing group of prostitutes naked one by one as he selects a companion to join him and his wife for the night.
It sounds like a scene from a porn film, but this was the latest episode of the epic fantasy drama Game of Thrones, based on the novels of George RR Martin.
The start of the gory series' fourth season on Monday night, even managed to shock its own fans.
Thrones' long-awaited fourth season returned to Sky TV's Soho channel at 8.30pm, and the prostitute scene came 10 minutes from the start - close to the 9pm watershed.
It means young fans of the programme, which has developed a cult-like following among viewers of all ages, may have been watching with their parents.
Campaigners warned it could lead to young people being "desensitised" to content once considered shocking and being influenced by the behaviour they displayed.
Read six addicts' thoughts on the first episode
Miranda Suit, a spokeswoman from UK media watchdog Safermedia, said: "What are [young girls] learning from some of these storylines?
"That what most men want is their body and handing it over is one of the easiest ways to get their attention. This does a great disservice to both men and women."
On Twitter, one user said: "I can't watch Game of Thrones. There's too much rape and murder."
Another posted, "I swear Game of Thrones is just a rape festival", while a third Tweeted: "Game of Thrones is just disgusting really."
Other scenes in the episode, which followed the Stark family coming to terms with the killing of their relatives at the end of season three, featured an attempted rape and graphic disembowelment.
Pippa Smith of Safermedia described the scenes as "deeply troubling", adding that it could lead to children behaving in unacceptable ways, based on what they have seen on TV.
"Extreme sadistic violence and sexual violence involving harpooning prostitutes and what appears to be attempted rape served up for television entertainment?" she asked.
"That this series is so popular is deeply troubling and no doubt it is particularly popular with young boys and teens many of whom who are already becoming desensitised, more aggressive and lacking in empathy from the violence in films and video games and online porn."
And Miss Pattinson agreed that while the quality of the scenery was "fabulous" and the acting "brilliant", there was a worrying undertone of violence being acceptable.
She said: "It's normalising this violence and unhealthy relationships, or whatever it is. It's giving it a context and that is worrying."
Based on the fantasy novels of George RR Martin, the programme is known for its violent and sexual plot lines.
And it has developed a widespread international fanbase, enraptured by the elaborate goings on within the fictional continents of Westeros and Essos.
- Daily Mail