We trawl through the gossip mags, so you don't have to.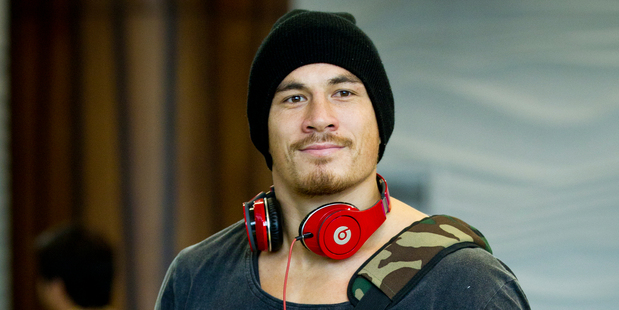 1. Oh Sonny Bill Williams. You and your short-shorts. You and your sculptured torso. All you have to do, apparently, is be spotted in your undies post-swim and you make the ladies swoon. And thank goodness Woman's Day was there in Sydney to capture that moment you emerged from the water for a quick car-side change, and to commence the countdown to your New Zealand return - only six months! Maybe someone should start a SBW-shaped chocolate advent calender.
2. "Just pretend I'm a puppy." Prime minister John Key sure knows how to make his wife swoon. The off-the-wall comment almost makes sense within WD's story and photoshoot with the Keys and a pair of guide dog puppies. Almost. Amidst talk of the work Bronagh does for the cause, and the excitement of catching up with their old pals William and Kate (Key had a snuggle with George during their visit to Balmoral last year. He reports he is "very cute") the PM reveals he is a fan of the somewhat ridiculous habit of photographing his food. "I'll ring [Bronagh], text her and annoy her all the time.
Or I'll send her a pic and be like, 'This is the cake I'm about to eat'." Come on, sharing is caring.
3. She's an award-winning chart topper, but Lorde has a new title. New Idea has labeled her as the leader of the "bare beauty brigade" after the 17-year-old tweeted a couple of photos pointing out how, in one of them, her skin had been photoshopped clear of blemishes. "Remember flaws are ok," she told her fans. The move prompted the mag to devote four pages to photos of stars without makeup.
4.Telly actors do funny things to promote their shows, and the stars of Step Dave are no exception. Sia Trokenheim (who plays Cara) and Jono Kenyon (Dave) visited Auckland Zoo with the New Zealand Woman's Weekly. And the highlight? Trokenheim got to give a tortoise a massage. "I gave him a little scrub on his back and you could see he really enjoyed it," she told the mag.
5. Last, but far from least, William and Kate. New Zealand has Royal Fever (which is better than Bieber Fever, I think we can all agree) and it has a lot to do with little, chubby-cheeked, baby George. NZWW breaks down the big questions we all want answered: who does he look like? The answer varies, depending on who you talk to apparently. Were William and Kate ever going to leave him at home? That was "unthinkable". What will the young Prince be wearing? A green checked body suit amongst other things. And finally, how good is this new nanny? Well, she's been trained in both martial arts and stunt driving, so...
- nzherald.co.nz