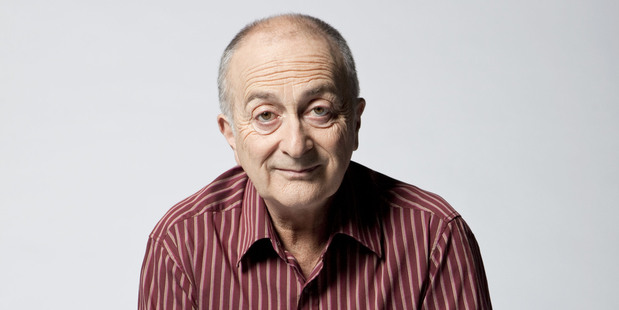 He made a comedy mark out of poking fun at blundering military commanders as Blackadder's put-upon servant Baldrick, and now he's in Auckland gathering war stories.
Sir Tony Robinson was quick to explain yesterday that neither nor his master in the Blackadder television series, Rowan Atkinson, had any intention of using rank and file soldiers as comedic cannon fodder.
"We never wanted in any sense to disrespect the courage of the ordinary soldiers, the sacrifices they made," he told the Weekend Herald after a day of filming for a new series for Sky's History Channel, Tony Robinson's Tour of Duty.
"But there's no doubt that in the First World War some pretty grotesque and foolish decisions were made often at the very top level and, yes, we wanted to satirise that."
The series is due to screen early next year, in Britain as well as in New Zealand and Australia, to coincide with the 100th anniversary of the landings by forces of those countries on Turkey's Gallipoli Peninsula in 1915.
It will tell war and home-front stories gathered from eight Australian towns and cities, from Dunedin and Auckland, where the public is invited to bring tales and memorabilia to the War Memorial Museum this afternoon for a show-and-tell filming session in the vein of Antiques Roadshow.
"It will be quite a fun day, you get to share all those stories, but you can also take part in the show."
Sir Tony, a veteran history television presenter and former British Labour Party executive member who was knighted in November for public and political services, revealed that one man in Dunedin brought to the show a bandolier - an ammunition belt - which saved a relative's life in the Second World War by protecting him from an enemy bullet.
"The guy said, you do know what those bandoliers were called in the Middle Ages, and I said, yes - a baldrick."
He had not come across any inherited resentment from New Zealanders about inept decisions made by the British commanders in the Gallipoli campaign, but noted that many British soldiers died during the landings as well.
"You've got to remember more British soldiers died at Gallipoli even than Australians and New Zealanders - the sacrifice Australians and New Zealanders made was out of all proportion to the population, but we took heavy losses at Gallipoli too."
Among Auckland stories filmed this week by Sir Tony and his production crew have been that of secret "tsunami bomb" tests conducted off Whangaparaoa Peninsula in the Second World War, which he explained at Viaduct Harbour to his future viewers.
"The idea was that New Zealand would create a weapon of mass destruction, which was pretty ironic because we see you as an anti-nuclear nation."
While at the Viaduct, he got to compare political notes with Auckland Waterfront chairman Sir Bob Harvey, a former New Zealand Labour Party president with mutual friends and acquaintances who is also on the organising committee for next year's First World War centenary commemorations.
• Tony Robinson's Tour of Duty will be at the Auckland War Memorial Museum from 12.30pm Saturday April 5.