Siobhan Keogh has given up on a few games early on. So how important are first impressions?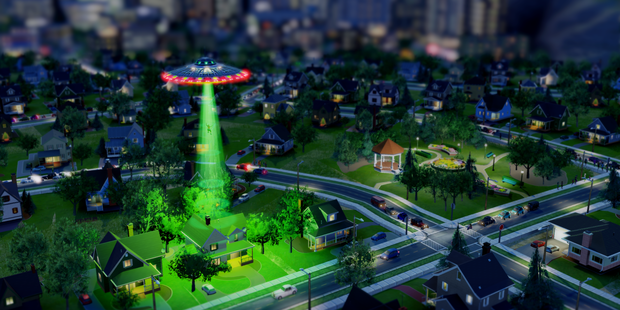 How much do your first impressions of a game count?
Let's say you've done your research. You've read up on the development of a game, read the early reviews online, and you're certain you're going to make a day one purchase. You might even pre-order.
But then the game comes out and, for whatever reason, it's not what you signed up for.
When I'm in that situation, I don't hang in there for long. I'll play for a while, give it a real chance - after all, I've paid real money for it - but my interest peters out pretty quickly. I suspect most people take the same approach.
Sometimes the negative reaction is universal. Take the latest Sim City game, for example, which required players to be always online. The game's publisher, EA, clearly wasn't prepared for the popularity of the game. The servers crashed for days - weeks, even - rendering the game essentially unplayable to all but a few.
They hastened to add more servers, but there was never enough bandwidth, and players fled in droves.
When people did actually get to play, they had other criticisms. Cities were unexpectedly small - in older games the maps you could build on were significantly larger. Developer Maxis had also promised that the company's clever A.I. meant you could follow one sim through their whole day - that turned out to be dishonest.
Then there's Diablo III, which had similar issues. Always online, and a real-money auction house where people could buy and sell their rare loot. The problem with the auction house was that the developer of Diablo III, Blizzard, made rare loot even scarcer than it had been in previous games in order to inflate the pricing on the auction house.
Both of those developers have since made sincere efforts to improve their services. Maxis has spent months working on making Sim City coherent and playable offline - although they're not increasing city sizes. While Diablo III is still online-only, servers are much more stable now and the auction house is a thing of the past.
But here's the thing: I'll almost never forgive that initial slight. Even if the developers spend months fixing issues, removing the features I hate, and grovelling to fans everywhere, I'm probably never going to play their game again. That especially applies if the developer or publisher has a history of disappointing fans.
I haven't touched Sim City since a couple of weeks after its release. And the idea of replaying Diablo III now bores me, despite the fact that an expansion was recently released. First impressions really do count for me, and if the first thing a game does is waste my time then it's very unlikely that I will spend any more of my money on it.
There are exceptions, sort of. I never played Final Fantasy XIV when it was first released, although the drama surrounding it was well-reported. XIV was poorly rated by reviewers and fans alike, and criticised for being unfinished and poorly written. In response, developer Square Enix overhauled the entire development team and essentially scrapped the first version of the game and rebuilt it. Throughout the whole process, Square listened to its fans and took their feedback on board. The company even built the release of the game into the lore of the existing version.
I recently heard from a friend that the rerelease, Final Fantasy XIV: A Realm Reborn, was a massive improvement on the original game, so I gave it a shot. I'm only a few levels in with my first character, but am so far really enjoying it and I plan to keep playing.
If I had played the game when it originally released, however, I'm not sure I would have picked it up again.
Maybe I'm just fickle, but first impressions are crucial for me. I doubt I'm alone. Note to developers: if you want people to love your game, make sure it's loveable from day one.
* How important are first impression to you? Post your comment below.