We trawl through the gossip mags, so you don't have to.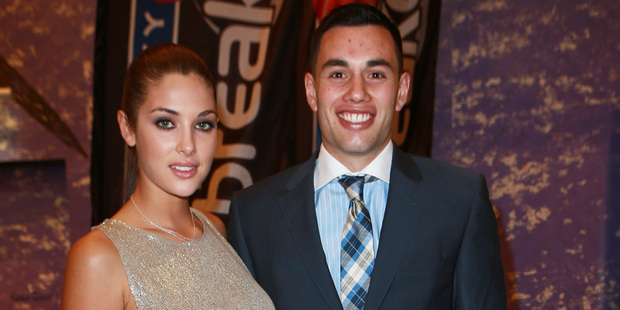 1. "Just like sisters" the headline screams. But of course Sally and Jaime Ridge are actually just the closest mother and daughter duo in New Zealand. This week, Woman's Day managed to spot them at the beach, enjoying a "double date" with the men in their lives. "Sally and her man arrived with a couple of plastic bags of picinic supplies from the supermarket," one on-looker reported. "They looked like any other family, except for Jaime and her boyfriend, who stood out like models. They looked very much in love and were really touchy-feely. Jaime even gave him a wedgie in his togs!" Which we all know is the traditional sign of affection around these parts.
2. Congratulations Anna and Jay Reeve. The pair welcomed twin boys - Oscar and Hunter - a few weeks back, and WD managed to snag the first pics of the "dream babies". ZM radio DJ Jay has apparently got stuck into the nappy changing business, although it was the birth that he reckons was really "gnarly". "The obstetrician rolled up in gumboots. I was like 'This is business time'," he told the mag.
And so far the pair are having no problems telling the twins apart - meaning they can shelve their original plan: "We thought we might put a spot of nail polish on the underside of one of their feet as a back-up plan. So far, we seem to be managing though."
3. Ria Vandervis reckons people get a bit confused when she officiates at weddings. "I did one wedding and the guests had no idea that I was the celebrant," she tells New Idea. "They were like, 'That's Harper from Shortland Street! What's going on? She's a doctor, isn't she?" The hospital soap star had no problems becoming a wedding officiant at the end of 2012. Meanwhile it took another celeb celebrant, ZM's Flynny, 12 tries to become official. Turns out he pulled a radio gag on the Department of Internal Affairs when he got turned down the first time, and they held a grudge.
4. Everyone is rocking the pixie haircut these days: JLaw, Charlize Theron, Pamela Anderson and now, Lorraine Downes. The former Miss Universe took the New Zealand Woman's Weekly along with her when she chopped off her blonde locks and relives the transformation in the mag this week. She says the feedback has been (mainly) glowing, except for partner Martin Crowe's daughter Emmy, who took one look at her and wondered how long it would take to grow back.
5. Have you got your My Kitchen Rules NZ application in yet? If the answer is yes, you might want to read the NZWW's chat with the judges Ben Bayly and Gareth Stewart. It seems our version of Pete and Manu aren't going to shy away from playing the bad cop if a bit of tough love is called for. "We're both passionate about food, so if people aren't respecting it, I think you could see two mean judges," says Stewart. Bayly agrees: "If the teams are terrible, they will cop it from both of us". Should make for great viewing.