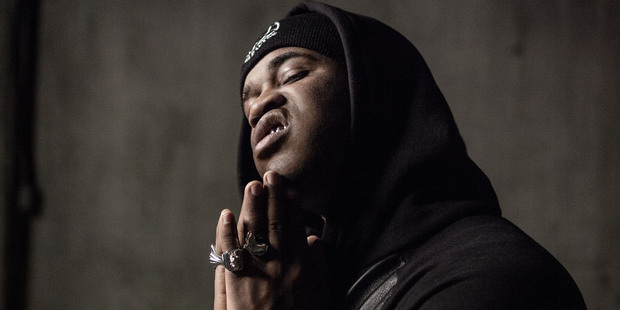 Say what you like about A$AP Ferg, but the rapper knows how to make an entrance.
Ferg, performing his first solo shows in New Zealand after playing support for A$AP Rocky last year, emerged on to the balcony above The Studio's small stage wearing a gas mask while eyeballing the crowd with that deathly stare he's become known for.
It was a ridiculously creepy start to a show that was as intense and insanely unhinged as it promised to be.
Ferg's brand of grinding and gloomy hip-hop, which relies on relentless waves of bass-driven "trap" beats, inspires the kind of mosh pit frenzies usually seen at rock concerts.
That was certainly the case as Ferg kicked off proceedings with the pile-driving swagger of Dump Dump, the sardine-like Studio crowd pushing, shoving and jumping to the song's unrepeatable explicit chorus from the outset.
Things only got more crazed from there, with Ferg jumping into the crowd twice while covering Rocky's Wild For the Night, eyeballing the front rows during the loping fury of Hood Pope and Work, and thrilling with Let It Go's thudding, menacing groove.
Then there was the night's best song Shabba - an ode to Jamaican dancehall star Shabba Ranks - that inspired such a frenzy that some of the venue's smaller fans could be seen escaping to safer areas.
It was probably a good idea. Ferg is a charismatic - if slightly misogynistic and aggressive - character and his shows are get-out-or-get-amongst-it affairs, with the only real respite coming in the form of the brooding Cocaine Castle.
But if you were in the right mood, it was 90 minutes of brilliantly over-the-top hip-hop escapism.
If there's a better soundtrack to start a riot, Ferg hasn't written it yet.
A$AP Ferg
Where: The Studio, Auckland
When: Saturday, March 29
* What did you think of the show? Post your comments below.