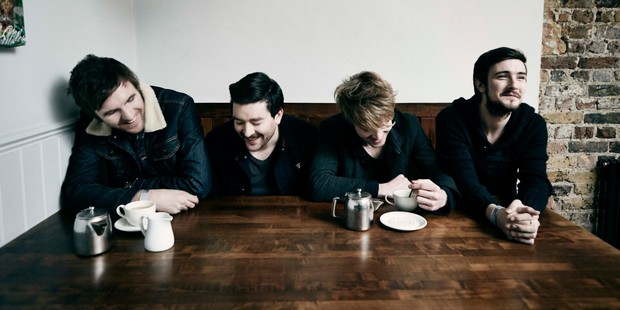 Not many bands would play a free pre-concert concert for their fans, but that is exactly what indie folk-pop band Kodaline did yesterday afternoon at Silo Park, before hitting up The Powerstation in Auckland.

Performing in New Zealand for the first time, the Kodaline lads were happy to chat and take pictures with fans that had gathered to see them play. It's been a crazy ride for the Irish quartet over the last year and a half "but we try not to question it" bass player Jason Boland commented, before the band performed a stripped down set underneath the echoey silo.

Kodaline perform a pop-up concert at Silo Park, Auckland. Photo / Rachel Bache, Instagram

The band gained international note after the release of their first single All I Want which received over 6.6 million views on YouTube (7.9 million if you include their Part II edition). The song was followed up with their debut album In A Perfect World in 2013.
Now, between touring, the band have been in the studio working on songs for a second album.

Getting to experience the boy's beautiful four part harmonies at their unexpected pop-up show was a real treat and a great indicator of what to expect from the full concert later that night.
I had High Hopes (pun unashamedly intended) and I wasn't disappointed.
Read more: Kodaline: Video thrilled and made them a star

For a band relatively unknown in New Zealand, Kodaline managed to pull a decent crowd to The Powerstation on Sunday night. Though, the sheer volume and enthusiasm from the room made it feel like a much larger platform.
Kodaline brought out almost every song in their arsenal - switching between the blood pumping After The Fall and a faster paced reworking of One Day, to the more melodic Talk and fan favourite, High Hopes.

Kodaline's frontman Stephen Garrigan. Photo / Scott Sinton
Catchy Mumford and Sons-esque tune Love Like This saw lead singer Stephen Garrigan tag-team a harmonica and mandolin, much to the crowd's delight.
Musically the band was solid, which is understandable when you've known your band mates since age eight, Carrigan explained in his charming Irish accent before performing Way Bay When.
Kodaline's layering of all four member's voices to create haunting harmonies, that culminated in a number of their songs, was breathtaking and not always something you see in a live performance. Their unplugged cover of Sam Cooke's Bring It Home To Me, had the whole audience in a hush, appreciating the band's swoon-worthy crooning.
The night finished with a powerful rendition of All I Want, the audience singing it out at the top of their lungs, word for word. It was a bitter-sweet ending, I could have easily listened to them perform all night. Bring on Kodaline's second album and hopefully those Irish lads will be back in the country soon, playing to an even bigger crowd.

Kodaline performing at Auckland's Powerstation. Photo / Scott Sinton
Who: Kodaline
Where: The Powerstation, Auckland
When: March 30
Listen to: In a Perfect World (2013)
- nzherald.co.nz