The multi-talented First Lady of neo-soul, mother and future midwife continues to give life to music that can be seductive, fiery or tender, writes Lydia Jenkin.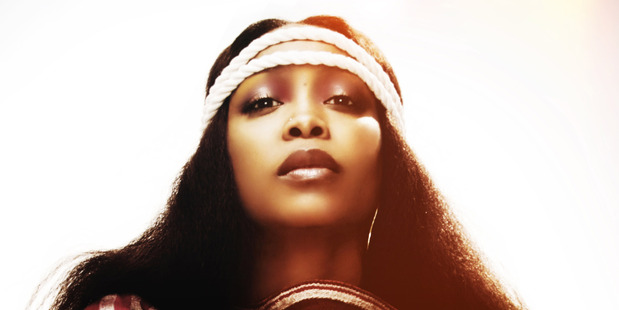 The name Erykah Badu conjures up a lot of ideas. A fiery, righteous woman with strong views; a temptress with hypnotic eyes who seems to hold a special power over male rappers (Andre3000, Common, The DOC and Jay Electronica have all been partners); a loving mother; a spiritual advocate; a style icon; a founding artist in the neo-soul movement.
She seems equally happy baring her skin (as she did in daring 2010 video Window Seat), or draping herself in many-textured and coloured fabrics, and her music can be as tender as it is seductive or defiant.
With these chameleon qualities perhaps it's not surprising to find that her live performances are often moulded on the fly.
"It just depends on the temperature of the people, what I'm feeling when we land. We rehearse everything in the catalogue so that we'll be prepared for anything, but it just depends, and I guess the beauty of it is the improvisation and the impromptu-ness of it. And that just feels good, because then you can respond to what the crowd needs," the 43-year-old says on the line from her home in Dallas, juggling conversations with her children and discussing her upcoming Auckland show.
Badu was last in New Zealand for the 2012 Splore festival. This time the soul queen is playing her own headlining show, bringing her 11-piece band to the Civic, and although she is yet to release her new album there's no doubt it will be a different performance to anything she's done in the past, with plenty of fresh interpretations.
"A great deal of my music is based on improvisation that we've done live on stage at one point or another. We record everything when we perform so we can listen back to it, and sometimes a special, particular moment might happen when you're on stage, and then you have a chance to perfect that moment in the studio. So we're always trying new things on stage and some of that might end up on the album."
In the four years since she released New Amerykah Part Two - Return of the Ankh, she's been keeping plenty busy aside from simply working on a new album. She's also toured regularly, become the face of Givenchy's 2014 campaign, played a lead role in a 2013 western, They Die By Dawn, and collaborated on tracks by Tyler the Creator, Bonobo and Janelle Monae. So it's not a case of writer's block - Badu has plenty to say, she's just letting all the experiences sink in.
"It's been a wonderful time. I'm gathering material, and writing lyrics, and downloading experiences, and doing a little procrastinating. But it feels like I'm coming towards the finish of one era of my life in music, because it's been almost 20 years now, so there's a lot to say. But I don't have many words just yet.
"I don't know if the album will mark the end of the era exactly, but I feel like I'm at one in my life and career, just accepting all the changes and possibilities is really exciting to me right now. I'm specifically searching inside of me for something I haven't heard yet, or shared, or felt. That's what I'm working towards right now. Something special is happening with me musically, I can say that much."
Taking care of Seven, 16, Puma, 9, and 5-year-old Mars is a fulltime job too, and Badu makes sure she gives them plenty of time and attention.
"It feels like I'm coming towards the finish of one era of my life in music, because it's been almost 20 years now, so there's a lot to say."
"My music, it's not a race to me. I do it because I love it, and I need it, and I want to do it, and it feels good. But a lot of my creative energy goes into thinking about my family and my children, and our life, and our education and our spiritual growth, and our health, you know, so it takes a little bit longer to get some of these other thoughts out that would go in an album." So what is Badu thinking about? She's always been vocal with her opinions on politics, human rights and various global issues in her songs, so it seems likely her present concerns will also be apparent in any new material.
"I guess it's a social issue and a spiritual issue, but I just hope that we can become more aware of who we are versus who we think we are, and who we need to be. I guess that would nip it all in the bud, that's a fairly underlying issue."
She has also been expanding her pool of talents in an unexpected direction - by training to be a midwife and offering her services as a doula (a woman who gives non-medical support before, during and after childbirth) to friends and acquaintances.
"It is quite a different realm to music, but it's still a service. The baby and mother are the stars though. The energy I'm giving to a baby is the same energy I'm giving to a person in the audience. I'm hoping that my highest good reaches them, and I'm hoping that it reaches their highest self, too and that we're communicating. Same connectivity, different connections."
Despite other occupations, she still keeps her finger well on the musical pulse and is a big fan of plenty of her contemporaries. She may have been releasing albums for 20 years, but Badu seems almost timeless in her attitude and approach to music. "I love Earl Sweatshirt, I love Wolfgang, Childish Gambino, Toro Y Moi, I love what's happening with Sa-Ra. I love what's happening in hip-hop with Drake, and I really like Rihanna. I love what Janelle is stirring up in Atlanta. It feels fresh and good, but I can also hear little pieces of my music, and the era of my music, and everything that I was listening to and happening around me, in what's happening today. So it's good that even though I'm an analogue girl, I manoeuvre very well in the digital world."
Who: Erykah Badu
When and where: Performing at the Civic Theatre in Auckland on Thursday, April 10.
Listen to: Baduizm (1997), Mama's Gun (2000), Worldwide Underground (2003), New Amerykah Part One (4th World War) (2008), New Amerykah Part Two (Return of the Ankh) (2010)
- TimeOut