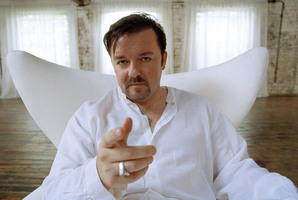 British comic Ricky Gervais is hoping to bring his most famous character, David Brent, back to the television for a spoof documentary.
Gervais reprised his role as the cringeworthy office manager last year for several sold-out stage shows with his fake band Foregone Conclusion.
He now reveals he will be filming behind-the-scenes at his upcoming concerts in England and hopes to transform the footage into a TV film in the style of iconic rock parody This Is Spinal Tap.
He tells the Radio Times: "It's just an idea. I want to do a tour, a little tour - and people think they're seeing a tour. I film it, but actually it's Brent who thinks he's making a (Martin) Scorsese-type thing of (Jack Kerouac's novel) On The Road.
"Of course, behind the scenes, it is so much sadder and more poignant. It's Spinal Tap meets sad Scorsese meets (Canadian heavy metal band) Anvil. It's more of the breakdown of this man who thought he was going to be something else."
Gervais also suggests the documentary could be shown on TV or online, adding: "That will be on Netflix. Or HBO. Or the BBC."
The David Brent character first appeared onscreen in the UK in 2001 when the first season of The Office aired.
- WENN