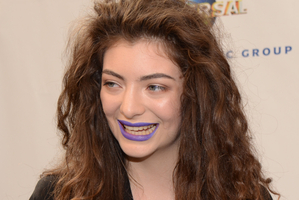 Westboro Baptist Church members protesting outside a Lorde concert in Kansas City were met with a counter-picket.
A widely retweeted photo shows people holding a sign reading "sorry for your loss", with the post "Westboro Baptist was protesting outside a Lorde concert in KC tonight. These guys were across street from them."
Westboro church founder Fred Phelps died last week, aged 84.
Read: Westboro Baptist Church founder dies
Church members had promised to picket outside Lorde's concert in the city. The pop star responded on Twitter by asking her fans to wear rainbow colours to the concert, but has since deleted the tweets.
US news reports showed Westboro members holding up anti-gay signs outside the venue, with a large group on the opposite side of the road holding opposing signs.
One large banner read: "Live your life and be awesome".
One fan posted a photograph to twitter of concert goers holding signs saying "God loves everyone" and "I love gay people".
Lorde's visit to Kansas City also saw her receive a signed Kansas City Royals baseball shirt.
The shirt was signed by Kansas City player George Brett, with the words "Lorde, you are Royal to me".
Lorde reportedly wrote her hit single Royals after seeing a picture of Brett signing autographs in his team shirt.
She posted a picture of the autographed shirt with the message: "Never a royal, but now an honorary member of the @Royals."
Read: Jack Tame: Society strengthened because of Fred Phelps
- APNZ