The two-part drama Angels In America marks the hugely ambitious end of Shane Bosher's tenure as head of Silo Theatre. Dionne Christian reports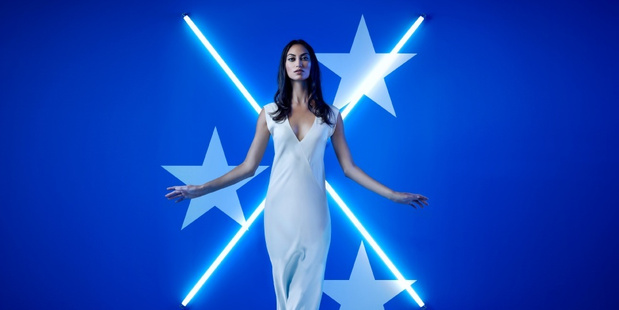 Shane Bosher is wearing shorts and a T-shirt and sitting on a deckchair; he could be at the beach and, heaven knows, the weather is good for it. But he's at the back of an old school gym with the curtains pulled, surrounded by an odd assortment of furnishings - a hospital bed, mobile IV drips, miscellaneous tables, a rack of clothes - and a couple of well-thumbed scripts which, when you pick them up, weigh more than a newborn.
The moment approaches when Bosher will step down after 13 years as artistic director at Silo theatre. He's eight weeks into rehearsals for his final production as Silo's head and the outside world has all but been shut out as he focuses.
This is his most ambitious undertaking yet, staging both parts of Tony Kushner's award-winning epic Angels in America: A Gay Fantasia on National Themes which was written in two parts (Millennium Approaches and Perestroika). These will be performed separately as well as back-to-back in a marathon seven hours.
Angels has won a Pulitzer Prize and two Tony Awards, and has been performed all over the world. It has been reworked as an opera and turned into an award-winning TV series which starred Al Pacino, Emma Thompson and Meryl Streep, among others. Until now, no one in New Zealand has ever performed in both parts; the last time Millennium Approaches was staged in Auckland was 1994, with Raymond Hawthorne directing for Auckland Theatre Company and Erik Thomson (aka Dave Rafter in Australian TV series Packed to the Rafters), Marton Csokas and Jim McLarty in the leading roles.
There are elaborate fantasy sequences and the script morphs from humorous to deadly serious in a heartbeat. It is intensely political and candid in its treatment of homosexuality, religion and addiction; in rousing monologues, characters expound on life's Big Themes.
Bosher has recruited some of the country's biggest theatre names: Mia Blake, Alison Bruce, Stephen Lovatt, Gareth Reeves, Dan Musgrove, Chelsie Preston Crayford, Jarod Rawiri and Matt Minto.
"We have tried several times, but it's a huge undertaking and not just from a financial point of view; the whole scope of it is vast," he says. "Usually a production meeting may take an hour and a half but for Angels, I have to block out two or three hours; design meetings can take even longer and have to happen on an ongoing basis.
"We've staged several big shows - Threepenny Opera, Assassins, Tartuffe and even Brel - so I thought we could manage it and when we talked about my last show, this was the best fit because ultimately it's about how people cope with change in their lives. I felt that was an extraordinary metaphor for where the company is at, as well as for me personally."
If anyone knows about change, it's Gareth Reeves, who plays fragile prophet Prior Walter. A gay man dying of Aids, Prior is rejected by his sometimes boyfriend Louis, who is unable to deal with his decline. Throughout Angels, Prior experiences heavenly visions as he frantically tries to make sense of what's happening to him. Emaciated and struggling, Prior turns out to be made of grittier stuff and determines he will live.
Reeves, who had moved to Australia and joined the touring cast of National Theatre's War Horse, rejected the role outright when it was offered to him. He and his wife, fellow actor Rebecca Bower, had moved from Sydney to Melbourne to await the birth of their first child. The removal truck bringing their furniture hadn't even arrived and Reeves was just days into new work with the city's Hayloft Project.
"I said, no, there was no way I could do it, but I went back to rehearsals and couldn't concentrate; I couldn't get it out of my head and I started to cast it.
"I went home and talked to Bec about it. She had auditioned for the role of Harper in a Sydney production and knew how special it is. She said we'd make it work so, by 11pm that night, we'd worked out how we could have the baby in New Zealand - whether we qualified for maternity care, which nationality the child could have, who could come to help out - and said yes."
With the baby due any day at time of writing, Reeves chuckles that the sleepless nights to come will make him look more like an ailing man. He is naturally slim, with fine-boned features, so hasn't had to lose vast amounts of weight.
"And, you know, there has to be some balance because I've got to go on stage and perform seven hours of theatre [with a two-hour dinner break in between] so I can't be so skeletal and weak that I collapse halfway through Perestroika."
Reeves sees this as a unique opportunity; so does Bosher. He acknowledges it will probably be the only opportunity he gets to direct Angels in America and realise a dream he has had since he was an 18-year-old on a school trip to Auckland from Hamilton's Fairfield College. He paid for a night in a backpacker's and stayed on his own so he could see ATC's Millennium Approaches.
"I'd never seen a play like it that spoke so personally and politically and in a way that those politics were accessible, even though I was 18 and I didn't understand them at all. Erik Thomson, as Louis, was doing the big speech about democracy and I felt alive with ideas."
Naturally he is impatient with those who simplistically describe Angels as the "Aids play from the 1980s". While it is set in 1985, and brutally depicts the capitalistic mood of the times, he sees it as exploring the genesis of many contemporary themes: the "save yourself" mentality and individualism, the uncertainty of the future.
"We don't know what the world will be like in five years' time; so many of the things that we rely on and take for granted can change and disappear. This play is about how you choose to live your life today because that's all we might have. It could be subtitled 'instructions for modern living'."
Bosher leaves Silo next month. He has two Auckland projects lined up and one in Dunedin. Then he might get a chance to lie on a beach but he'd prefer to be working, immersed in the world of theatre.

Performance
What: Angels in America
Where and when: Q Theatre, to April 13