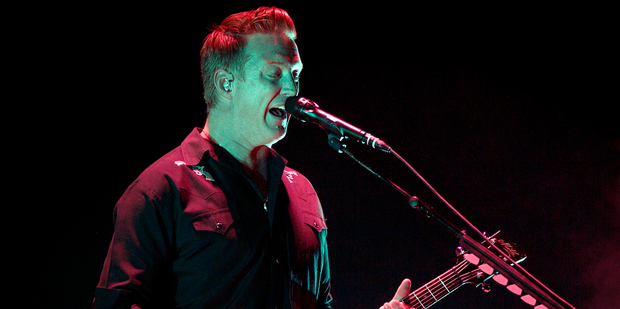 Here's a dilemma: it's Wednesday night in Auckland and two of rock's heaviest hitters are slugging it out in back-to-back sets, with the running order decided on the toss of a coin.
Do you go hard and join in the fun at an unmissable and unlikely-to-be-repeated double bill, or stand at the back, nod your head and take it easy, smugly smiling at how your Thursday will be hangover-free?
Two songs into Queens of the Stone Age's scintillating set, the question was answered as Josh Homme bellowed, "We're gonna have a good time tonight, I promise" during the strobe-heavy funked-up thrills of No One Knows.
There was no other option but to run to the front and get amongst it.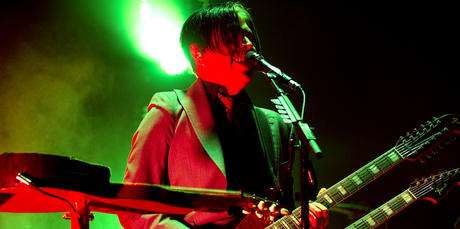 Yep, Homme had lost the night's coin toss and - after a short set of sneery, pierced-lip and throaty punk-rock from his wife Brody Dalle - Queens were forced to open for Trent Reznor's Nine Inch Nails.
But Homme treated the set from the Californian five-piece like a headlining slot anyway, showing why he's earnt the nickname 'Ginger Elvis' by swinging his hips during the desert rock boogie of My God is the Sun, hitting those falsettos during the spooky orchestral rock of Burn the Witch, delivering the sweet pop serenade Make It Wit Chu like the classy crooner he is, and sculling a well-earned beer after the machine gun spray of Little Sister.
It was a more wide-ranging, expansive set than Queens' last show here in 2011, and came with a mesmerising light and screen show. It also included plenty of material from last year's excellent ... Like Clockwork album - including the piano-based title track and the pace-changing chug of Kalopsia.
But the first half of Queens' show seemed like a warm up compared to the rapidfire late-set pairing of Go With The Flow and Sick, Sick, Sick, leaving chests pummelled and ear drums hammered. As Homme delivered the feedback blitz and searing solos of set closer A Song For the Dead, most fans could have headed home happy there and then.
Happy's not a word usually used to describe Reznor, but the former prince of darkness emerged to the Chemical Brothers rave-stomp of Copy of A - the most upbeat song from last year's electronic-friendly album Hesitation Marks - dancing up a storm and acting most unlike the Reznor who delivered depraved '90s anthems like Closer.
Nails have been infrequent visitors to New Zealand with only two previous shows to their name, so Kiwi fans haven't seen them progress from industrial '90s goth-metallers to their current incarnation as electro-embracing future-pushers as often as we'd like.
But from the opening moments of tonight's show it was clear Reznor was intent on crafting a futuristic nightclub vibe with occasional nightmarish tinges, with a smoke-filled stage designed to sit somewhere between a Kraftwerk concert and a big budget sci-fi movie set.
To match the vibe, Sanctified's narcissism was given an electronic, bleep-rock makeover, The Hand That Feeds was underpinned by disco rock churn, The Big Come Down was treated like a hip-hop track with the front man headbanging to punctuate key moments, and Came Back Haunted came with break beats, robotic vocals and a dubby throb as Reznor tapped cymbals on his chest. The only thing missing was glow sticks.
Reznor also delved deep into his back catalogue, stamping his microphone stand into the stage for the intense new-wave grind of Terrible Lie, shouting the chorus like a man possessed during Head Like a Hole, following March of the Pigs with the brooding anger of Piggy, and returning for a touching encore of Hurt.
It didn't all work: Reznor's wife Mariqueen Maandig stuck around for one song too many, All Time Low's jaunty bassline was jarring and out of place, and Survivalism's five-minutes of head-pounding paranoia felt excessive, meaning Homme's Queens took the honours on the night by a single ginger hair.
But that was a very tough call to make.
Nine Inch Nails, Queens of the Stone Age, Brody Dalle
Where: Vector Arena, Auckland
When: Wednesday, March 19