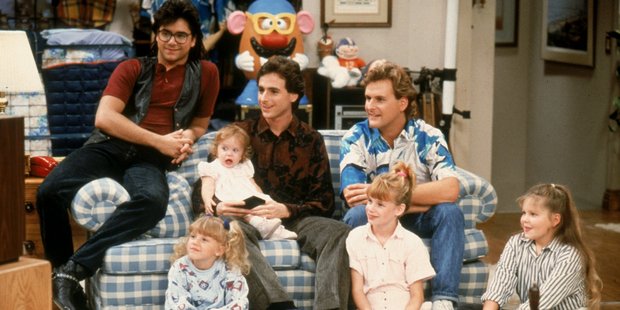 First, hello. My name is Bridget. I'm new here. Lovely to meet you.
Now, the important stuff. When I went to San Francisco for the first time last year, there were a few things on my "must-do" list.
Because of my timing, I cheered on poor old Team New Zealand. Then, took a look at the Golden Gate Bridge. I ate clean, green organic food and wandered around the hippy-ish Haight-Ashbury. And I visited a house. The Tanner house.
Growing up in the early 1990s, a few television shows defined my childhood - Beverly Hills 90210, My Two Dads, Gladiators. And Full House.
I spent afternoons with Danny Tanner and his girls, wishing I had a crazy uncle who could make the voices Joey could; swooning over the coolness uncle Jesse radiated; pretending I was best friends with DJ; or that my ponytail was as high as Stephanie's.
The swooping views of San Francisco's steep streets and colourful front doors made me long to live somewhere as exotic. Even now, almost 20 years on, I could sing you that theme song from beginning to end, no problem.
So to hear the news Full House is returning to television in all its fluoro glory (4.30pm Saturday, TV2) caused actual squeals of nostalgic joy.
The show, which ran for eight seasons from 1987 to 1995, was a sensation for those of us of a certain age. Which got me thinking; what are the stars of Full House doing all these years later? Answer: not a huge amount.
Bob Saget (Danny Tanner) - After hanging up the knitted jumpers only a TV dad could wear, Saget had a stint hosting America's Funniest Home Videos. He also dabbles in the world of stand-up comedy, where his particularly crude sense of humour must have caught out a few TV fans over the years. These days, though, his voice can be heard as the present-day dad on How I Met Your Mother.
John Stamos (Jesse Katsopolis) - He was the undisputed dreamboat of the early 1990s. But when it all wrapped up, Stamos bounced from show to show. Appearances on ER and Glee came and went, as did a Broadway show. Oh, but there is the recurring gig helping out The Beach Boys. Yes, the band. Congas are his specialty, apparently.
Dave Coulier (Joey Gladstone) - The Canadian actor is infamously the inspiration for Alanis Morissette's first, very angry album Jagged Little Pill. And when he's not scorning soon-to-be pop stars, Coulier is the commissioner of Chikara, a professional wrestling promotion company.
Candace Cameron (DJ Tanner) - the big sister everyone wanted, Cameron has largely been on a self-imposed hiatus since the birth of her three children, although she recently made headlines with the release of a book in which she credits the success of her marriage to the fact she "takes a submissive role" in the relationship.
Jodie Sweetin (Stephanie Tanner) - The middle child of the fictional family, Sweetin has done very little acting since Full House finished. She has, however, been married three times and released a memoir titled UnSweetined, in which she came clean about her methamphetamine addiction, a drug she started using after the show wrapped because she was "bored".
Mary-Kate and Ashley Olsen (Michelle Tanner) - These two are the obvious success story. On screen since they were tots, the Olsen twins have become multi-millionaires, mini-tycoons, occasional uni students and fashion moguls. In 2007 they were named the 11th richest women in entertainment. They were 21 at the time.
In the words of Uncle Jesse, have mercy.