Chris Schulz talks to local lads the Brooks brothers rocking with the likes of Creed and Korn.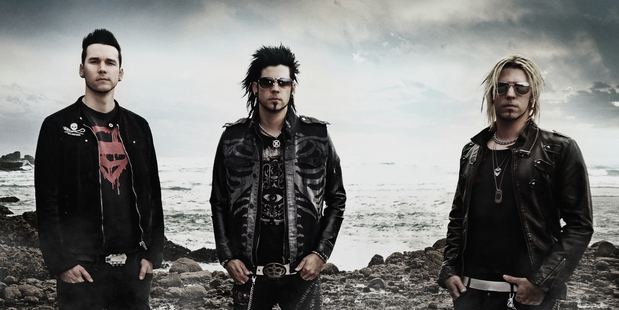 They're Kiwis, they're brothers, and they're tearing it up in the US.
But if you haven't heard of Like a Storm, it's not surprising. The North Shore siblings - Chris, Matt and Kent Brooks - are too busy touring America to build up a fanbase at home.
"One of the reasons we left New Zealand is because we wanted to be able to tour every night of the year," says Matt, the band's lead guitarist. "We've succeeded."
They've been touring non-stop since the release of their 2009 album The End of the Beginning, playing more than 200 shows including major US rock festivals and opening slots for bands like Creed, Korn, Alter Bridge and Puddle of Mudd.
It's meant the trio get just a few weeks off each year, forcing them to record their second album - Chaos Theory: Part I is out tomorrow - on the road. Parts of it were even recorded in hotel rooms.
During a quickfire visit home to see family and friends, the trio told TimeOut that spending so much time together wasn't a problem because of their family ties.
"It's like we're on this big adventure together," says Matt. "You do have times when you get pissed off with each other, but when you're family you just bring it up and it blows over."
Their relentless touring schedule has meant they've built up a following big enough to headline their own tours. And they've got some great work stories, like the time they played their first US show opening for Creed's reunion tour to 14,000 people in Pittsburgh.
They faced a nervous wait for their brand new instruments to arrive.
"Our soundcheck was opening cardboard boxes and taking off plastic wrap," says Chris.
"We thought Creed's fans were going to throw stuff at us (but) it was incredible."
It was a baptism by fire that resulted in Like A Storm joining Creed's tour for three months, something they say was exactly what they needed.
Kent: "By the end of that three months we'd played in just about every American state, just about every major city, and in the biggest arenas. It was the most ridiculous thing."
It's not surprising that American rock fans have taken a shine to the Kiwi trio. Led by Chris' powerhouse vocals and the guitar grunt of Matt and Kent's rhythm section (they have a revolving cast of drummers), Like a Storm have an aggressive but clean rock sound similar to bands like Chevelle and Staind.
But they also have an ace up their sleeve: the didgeridoo. Their new single Love the Way You Hate Me features a one-minute didgeridoo solo - played by Chris - that even they admit is "indulgent".
Chris: "A friend got one for me. Coming from the Shore I didn't know a single person who could play it. I just went on YouTube and figured out how to do it over two days. It's the most foreign thing I could think of doing, but now I can pick it up a couple of seconds before I play and I can do it. It has such a primitive, hypnotic tone to it."
The other surprise on Chaos Theory: Part I is a cover of Coolio's 1995 hit Gangsta's Paradise.
"We heard it in the movie Bad Teacher and were like, 'Imagine if a rock band covered it. Well, we're a rock band. Let's do it'," says Matt.
"It became this little side project that we'd work on at the end of the day. Half of it came together straight away, doing the song in the style of our band. The other half was months of work - we don't rap, and it's a rap song. We didn't do it to put it on the record (but) it came out sounding awesome."
With tours locked in for most of the year, Like a Storm are hoping to come home for shows at the end of the year.
"As Kiwis it's amazing to have a song played on the radio here," says Matt. "We've always dreamt of having a career in the States and at home, and we're starting to get a lot of love down here.
"Next summer we're going to bring the rock show back to home soil."
- TimeOut