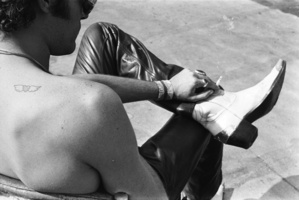 At the end of last month, artist Alexis Hunter died, at age 65, of motor neuron disease. Artists and institutions described her as important and talented. I confess my ignorance; I had never heard of her. So I went in search of what I had been missing.
Based in London since 1972, she was the McCahon student and Elam graduate who made good overseas, yet who enjoyed her regular visits back home. That's one story. Another story is that of the technical innovator, showing cinematic sequential photographs, and unpredictably adding figurative, psycho-symbolic painting to her output in the 80s. She was scoffed at, remembers Auckland Art Gallery senior curator Ron Brownson, for using the plebeian photocopier as an art tool.
But the most compelling story is that of the fearless leading light in the feminist art movement, making "some of the most radical work of the 70s in the UK," according to one critic.
She photographed men's tattoos in the street, close-ups of their forearms hanging by their crotches. These and other images are erotic, presenting a desiring "female gaze" - surprising a world used to seeing only women as sexy camera fodder in art and advertising.
Approach to Fear XIII: Pain - Destruction of Cause (1977) shows the burning of a silver high heel shoe. "It was glamorous and dangerous at the same time," remembers artist Judy Darragh, a decade Hunter's junior, for whom New Zealand artists like Hunter, Allie Eagle and Rhondda Bosworth were "refreshing and really exciting after an art history education full of male landscape painting".
A generation younger, artist Cushla Donaldson admires that Hunter's works "are enjoyable but require [the viewer's] expansion. That's the best kind of work".
Others weren't so welcoming. In a 80s Art New Zealand interview, Hunter told Alexa Johnston - who went on to curate Hunter's 1989 Auckland Art Gallery survey show Fears/Dreams/Desires - that a man once ripped one of her works off an exhibition wall and tried to flush it down the men's toilet. Viewers thought a woman trimming her nails with a razor blade was about castration but, for Hunter, it was about "the metaphorical castration of the woman's life-style".
A good sign of a trailblazer is that they're first misunderstood by many, but are later much appreciated by a world they've helped to shape. Hunter's Sexual Rapport: Yes/No/Maybe (1973-75), for example, sold for £10,000 ($19,000) last year at Christies in London. That work is amusing, a "hot or not" sheet: Hunter has stamped emphatic judgements of "yes", "almost", "no" on 12 photographs of different men.
Those who knew her, including her Auckland dealer Deborah White of Whitespace, say that such humour pervaded Hunter's life: she was warm, laughing and generous to other artists. Hitchhiking through Queensland, she allegedly once stashed a bag containing marijuana at a police station, deciding that was the safest place for it.
Art, for Hunter, required both politics and play connecting to "a pleasurable curiosity about life". Thankfully, her work and its legacy live on.