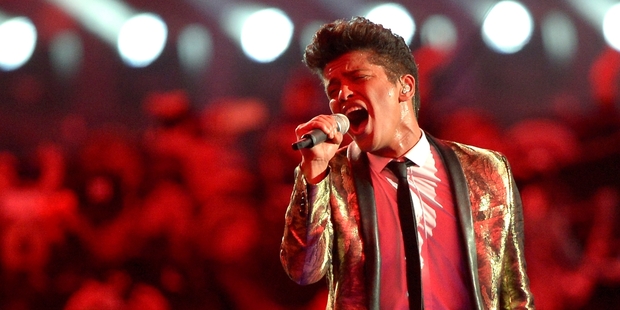 It's been a pretty good year thus far for Mr. Mars. The Hawaiian-born singer picked up Best Pop Vocal Album for Unorthodox Jukebox at the Grammy Awards, a BRIT award for International Male Solo Artist and gave a spectacular performance during the Super Bowl half time slot.
Bruno Mars is bringing his R&B infused pop hits to New Zealand this weekend, performing two shows in Auckland on his Moonshine Jungle Tour.
To get you all pumped for what is sure to be a sensational show, we thought we would pull together our pick of Bruno Mars tracks.
Some of our favourites include Bruno's cameos on Snoop Dogg's Young, Wild & Free and B.o.B's Nothin' On You, as well as his own chart toppers Just the Way You Are and Grenade and of course some of his best-loved songs from Unorthodox Jukebox.
Those songs and more feature in today's playlist, curated by entertainment reviewer Rachel Bache. Follow NZ Herald on Spotify for more playlists.
Warning: Some songs contain explicit language.
- nzherald.co.nz