Chris Schulz casts his eye over five upcoming horror films.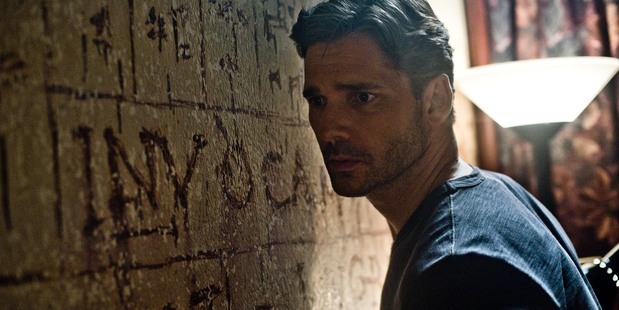 Everyone loves a good horror movie, and there's not shortage of bloody thrills and horrific spills coming to a theatre near you in 2014.
Be warned: the following five trailers contain blood, gore, and in one instance, a woman eating a light bulb.
1. The Quiet Ones
Director: John Pogue
Starring: Jared Harris, Sam Claflin, Olivia Cooke
NZ release date: TBC
"Inspired by true events" is a pretty generic claim made by many a horror film these days. But in this case, it appears to be true. The Quiet Ones explores the actual, real life story of a professor who used students to help him create a poltergeist. Maybe don't try this at home.
2. Deliver Us From Evil
Director: Scott Derrickson
Starring: Eric Bana, Olivia Munn, Joel McHale
NZ release date: TBC
Spooked kids, soft toys, "scratching noises" and things hiding under the bed. There are plenty of cliches in this trailer from the upcoming Eric Bana vehicle about a non-believing cop investigating paranormal activity. Still, it's worth sticking around till the end of this creepy promo for a pretty intense scare.
3. Oculus
Director: Mike Flanagan
Starring: Katee Sackhoff, Karen Gillan, Brenton Thwaites
NZ release date: TBC
Katee Sackhoff hasn't done much since her stint in Battlestar Galactica, but she's got terrifyingly devilish eyes in this trailer. Oculus - nope, I don't know what it means either - is about a woman who tries to prove supernatural spirits were responsible for murder. That's gotta be a tough sell. And if you're worried about the lightbuld eating scene, then cover your eyes for this trailer.
4. Alien Abduction
Director: Matty Beckerman
Starring: Katherine Sigismund, Corey Eid, Jillian Clare
NZ release date: TBC
If you're a fan of The X-Files, you just know you're going to love this. Here's the plot: Family goes camping. Family sees strange lights. Dead birds fall from the sky. Spooky long-limbed beings are seen skulking around a tunnel. Then a hillbillly shows up. And people start hovering in a barn. All this Alien Abduction needs now is Mulder and Scully.
5. The ABCs of Death 2
Director: Assorted.
Starring: Assorted.
NZ release date: TBC
No horror preview piece would be complete without this, the sequel to Ant Timpson's gleefully gory celebration of short horror films. It takes the concept behind V/H/S to the extreme, with 26 short films from different directors compiled in a package that is best viewed in a large cinema full of like-minded twisted souls. You have been warned.
- nzherald.co.nz