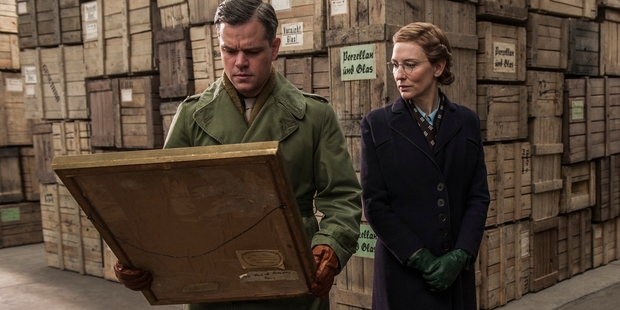 There's a moment in this art-heist caper when the group of museum curators, art historians and artists, on a mission to save 1000 years of art and culture from the Nazis during World War II, discover barrels filled with wedding rings and gold fillings.
It's at this stage you realise that despite the charm of George Clooney and friends and how handsomely this film is shot, treating a war story like this with the tone of Oceans Eleven was never going to work.
A true story based on the book The Monuments Men: Allied Heroes, Nazi Thieves, and the Greatest Treasure Hunt in History, by Robert M Edsel, the script was adapted by Clooney - who also stars and directs - and screenwriting collaborator Grant Heslov.
Lieutenant Frank Stokes (Clooney) and his squad of middle-aged soldiers risk their lives behind enemy lines in Europe retrieving famous pieces of art stolen, or in danger of being stolen, by the Nazis. You can appreciate why Clooney and Heslov took the entertaining caper - what better way to make this fascinating story appeal to an audience beyond art history graduates.
It's a clash of cultures, though, with the laid-back, witty banter at odds with Clooney's Lieutenant Frank Stokes' rousing speeches about the importance of art. Even then, not everyone gets the humour, and though Clooney keeps the story moving at pace, the hit-and-miss comedy makes the 118-minute duration drag.
Bob Balaban and Bill Murray make the script work best, gently niggling each other as they accidentally discover paintings stolen from private collections.
Matt Damon gets only two gags; one involves standing on a mine, and the other is that his French is terrible. This second gag is flogged to death throughout the entire film as he tries to convince a Parisian museum worker and resistance fighter (Blanchett) to collaborate with him.
Unfortunately, the normally inscrutable Cate Blanchett missed the memo about this being a comedy - or maybe she didn't. Her stoic character is so uptight it's impossible to know whether she's trying to be funny or not.
But it's when The Monuments Men tries to mix the funny and inspirational with the tragic reality of war that it really struggles.
Pausing the quick quips to take a moment to ponder the indignities or war and loss of life feels like a token gesture by Clooney, who - to be fair - still knows how to tug on the heartstrings.
Such a great story deserved a touch more gravitas.
The Monuments Men
Cast: Matt Damon, Cate Blanchett, Bill Murray, John Goodman, Hugh Bonneville
Director: George Clooney
Running Time: 118 minutes
Rating: M (violence)
Verdict: An uninspired adaptation of an inspiring story.
- TimeOut