Neko Case tells Rob Huges how her latest album helped her beat a debilitating bout of the blues.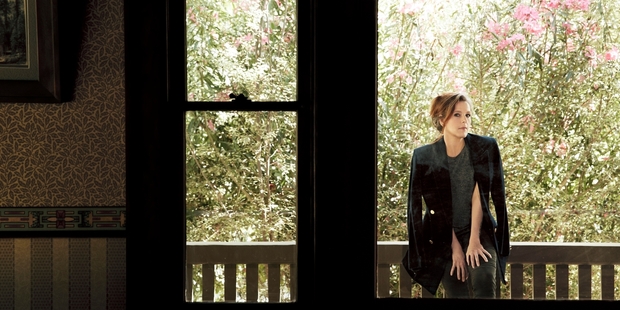 It's a popular notion that songwriting can be cathartic for those going through a miserable time in their lives. But Neko Case is having none of that. The American singer's latest album - the snappily-titled The Worse Things Get, The Harder I Fight, The Harder I Fight, The More I Love You - emerged from a prolonged bout of depression that hit her four years ago.
"The record happened despite crappiness rather than because of it," she explains, "There was no phoenix from the fire, nothing glamorous about it at all. It was actually a big slog through a mire."
But rather than create a depressing or morose record, the frank and vivacious songs earned Case a second Grammy nomination, in the Best Alternative Album category,
"It's been a bad four years and I really appreciate that they nominated me, because I did work really hard. I got my ass taken to the cleaners by Vampire Weekend, but being asked is seriously nice enough."
Since going solo in the late Nineties, Case has made her name with releases such as Furnace Room Lullaby (2000), Fox Confessor Brings The Flood (2006) and 2009's Middle Cyclone, which made the top three in the United States and for which she received her first Grammy nod.
These were records that mapped the rise of a rare talent blessed with a bracing voice and an erudite way with country, alt rock and noirish folk, somewhere between Wanda Jackson and Natalie Merchant.
Her emotive songs range from brooding commentaries on modern life to self-reflexive tales wrapped in metaphors from the natural world or folklore. But The Worse Things Get is way more autobiographical. It's the product of a tumultuous time, during which her past finally appeared to catch up with her.
The daughter of Ukrainian immigrants who were "crappy parents", Case has described the family home as a place where she felt unimportant. Her father, a US Air Force Vietnam vet with various addictions, separated from her mother when Case was very young.
By the age of 15 she'd left home and was immersed in the punk scene in Tacoma, Washington, drinking and staying up all hours. Case became a drummer in a handful of noisy bands before moving to Canada to study art in Vancouver, where she also joined punkabilly trio Maow.
Music had always played a crucial role in her life. Growing up, she found it both a source of solace and a thrill. Case refers to it as "the benevolent voice in the dark that says, 'It's OK, I'm here for you.' I'd put on Dreamboat Annie [by Heart] and my roller skates, pick up my aunt's guitar and sing into the hairbrush in front of the mirror." It wasn't until much later that she realised she had a voice: "It was just this urge - a crazy, ravenous urge - to sing things. It was more like I had a crushing desire than real vocal ability."
As shown by the peripatetic nature of her life - she's lived in British Columbia, Illinois, Arizona and now Vermont - Case seemed set on putting as much tarmac as possible between herself and her childhood. But after her last album, the deaths of her father and grandmother (with whom she was very close) finally forced her to confront the past and, by extension, the course her life has taken since.
Lifting the lid on this box of suppressed emotions led to new songs such as Man, Night Still Comes and Where Did I Leave That Fire? The latter is particularly affecting, laying bare her internal conflicts over a minimal arrangement that serves to spotlight Case's ravishing voice. "That one was me trying to explain what it felt like to be in that weird place," offers the 43-year-old.
"You're in the world of humans but you can't connect with them on any electrical level. You can't really touch them or communicate in an instinctive way. You feel like you're in a cold glove of mud.
"And sometimes it's quite humorous, which I tried to put in there too. I had to kind of dress these songs up in a way that was more joyful for me. You have to laugh at being that depressed after a while. It's rather like putting on your suit and clocking in every day."
The album also includes Afraid, a defiant version of an old Nico tune from 1970, the year of Case's birth. Its verses - sample: "You are beautiful and you are alone" - are both stark and poignant. "It doesn't tell you everything's going to be great," she says.
"That song is like somebody telling you the truth at last. It hurts but at the same time you've been waiting to hear it for so long. I've wanted to cover it for a long time and this was the right batch of songs to put it with. I've always found it comforting in a strange way."
Over the course of her career Case has blossomed as both singer and songwriter, tempering her lustier vocal gallops with down-tempo moments, odd meters and elegant phrasing. The Worse Things Get is a compelling record, offering further evidence of a unique force at work. She insists there's no threat of breaking into music's A-list, though.
"I sell more records now and more people come to the shows," Case says. "But it's still very blue collar, which is definitely where I like to be. I'm not really an arena guy."
The Grammy nomination may be some kind of compensation for those past few years, but Case says she's also come out of it a little wiser, if warier: "I never used to be afraid of anything, but I'm definitely a little gun-shy now. I have less tolerance for crap in my life, that's for sure. More than anything else, I guess I've learnt to listen to myself more."
Who: Neko Case
What: The Worst Things Get, The Harder I Fight, The Harder I Fight, The More I Love You, out now
Where and when: Performing at the New Zealand Festival in Wellington, at the James Cabaret tonight, and at the Powerstation in Auckland on Friday March 14
- TimeOut