Schools' cultural celebration has evolved into a Pacific festival drawing 100,000 people, reports Vaimoana Tapaleao.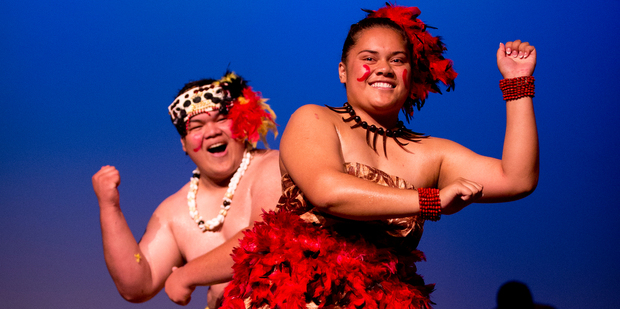 The final day of the ASB Auckland Secondary Schools Polyfest has been postponed until Tuesday because of bad weather.
What began as four schools coming together each year to celebrate cultural difference — performing on a makeshift stage on the school grounds — has exploded into the largest Pacific Island cultural performance festival in the world.
The ASB Auckland Secondary Schools Maori and Pacific Islands Cultural Festival, widely referred to as Polyfest, now attracts up to 100,000 spectators each year. But the event had humble beginnings.
In 1976, a small group of students and teachers from what is now Sir Edmund Hillary Collegiate had the idea of an event for schools to come together to celebrate their different cultural identities.
Hillary College, Seddon High School (now Western Springs College), Mangere College and Aorere College were the four schools to participate in the first festival, held on Hillary's sports field.
Manukau City Mayor Lloyd Elsmore opened the event, and food from a hangi and the school tuckshop was served to the audience.
Today, in its 39th year, the Polyfest is held at a much bigger venue - the Manukau Sports Bowl - and more than 9,000 students in 222 groups from 62 Auckland schools are performing.
There is no longer one stage, but six — Samoan, Tongan, Niuean, Maori, Cook Island and Diversity.
The last one was added a few years ago to celebrate the many other ethnicities in New Zealand. This year, it has 66 groups in an array of cultural performances including Chinese, Indo-Fijian, African, Thai, Hawaiian and Serbian.
Event director Theresa Howard, a former Polyfest performer, acknowledged that the festival was no longer just a small "school event", but a movement that involved much of the community and months of preparation.
"It's completely crazy how much the Polyfest grows each year. We get more and more groups entering and even within those groups, we're seeing the maximum number of students (60 to 120) on stage.
"We've got schools from outside of Auckland visiting the festival as well, just to see what it's like, and we've got a group from a school in Tonga coming in to perform as guests this year."
The Maori stage has a record 51 groups entered this year. They will perform back-to-back from the start of the festival early tomorrow to the end of Saturday.
Some groups — on the Cook Island stage, in particular — have even had material and traditional crafts shipped in from the islands for their costumes.
"That's how competitive some schools are," Miss Howard said.
"They don't want to turn up with the same material or uniform as another school."
The Diversity stage offers a unique look at Auckland's multicultural makeup and has become hugely popular with students over the past few years.
Stage co-ordinator Sarah Woods, a teacher at Papatoetoe High, said Polyfest had become increasingly popular with international students, who enjoyed showing off their own cultures while also getting a glimpse of unfamiliar ones.
"This year is the first time the Diversity stage will be competitive and so we now have a trophy up for grabs."
In recent years, students have been able to use their Polyfest performances to gain credits towards their NCEA level 1, 2 and 3 qualifications.
Speech competitions on the Niuean, Tongan, Cook Island and Samoan stages provide another opportunity to gain credits.
Miss Howard said: "Those are getting more popular each year too. It's another chance to play a different part at Polyfest.
"We had so many kids entering the Niuean speech competitions that we've had to hold it off-site this year."
Tongan stage co-ordinator Fane Ketu'u has been involved with the event for more than 10 years.
Miss Ketu'u, a teacher at Manurewa's James Cook High, said seeing the interest in cultural identity among pupils was the most rewarding thing about the festival.
"If you don't know your culture, you don't know who you are."
Avondale College
Avondale College, a big favourite on the Samoan stage, is hoping to bring the win back to their school this year.
The group has a long history of top performances and at one point saw them named the overall winners for the co-ed section nine years in a row.
In 2011 Otahuhu College — which had been second to Avondale for seven consecutive years — finally took the reins. Last year, Avondale finished in third place, behind Manurewa High and Tamaki College.
But group mentor and teacher Melanie Sagala says they're hoping for a good result this year.
"We definitely want to bring it back this year. Practices have been full-on, as always, and it's been hard with lots of after-school and weekend practices.
"At the end of the day, we want to instil in the kids that hard work pays off. No matter what the result, it's the process — the hard work and discipline they have put in — that matters," she said.
Principal Brent Lewis said the school had always been a huge supporter of the Polyfest and this year had 11 groups entering.
"We're very proud of the make-up of our school and we want to make our presence felt at the festival."
Mr Lewis said staff had invested a lot of time in connecting with various communities and the Polyfest was hugely important to them. "We've found that cultural and identity-driven activities help students. A few years ago we found that those students taking part in Polyfest were, on average, doing better in NCEA than others.
"If that's happening, then we are going to keep supporting it."
Aorere College returns
One of the Polyfest's most popular performing schools is back this year after an incident a week out from last year's event saw hundreds of students pulled from the festival.
It's a much-anticipated return for Aorere College after a brawl last year saw all the extra-curricular activities cancelled — to the disappointment of about 300 students who were to perform.
It was particularly sad as it was the first time that Aorere had not performed in 38 years of Polyfest.
Principal Patrick Drumm said it was a hard lesson to learn, but the school was looking forward to taking part this year.
"Aorere is back and we're happy to be back. We've got a lot of very excited students keen to show off our school spirit and enjoying their time at the festival," Mr Drumm said.
"This year is a really big one for our school and we can't wait to get on stage. The Polyfest is a fantastic opportunity to engage with the community and our students are looking forward to doing that."
The school is bringing back six groups: Tongan, Samoan, Maori, Niuean, Cook Island and Indian.
Need to know
Kicks off today with the Diversity and Maori stages opening. The Tongan, Samoan, Cook Island and Niuean stages run on Friday and Saturday.
Where: Manukau Sports Bowl, Te Irirangi Drive, South Auckland.
Entry: $5 per person, pre-school children 0 to 5-year-olds free.
Available: Food stalls offering traditional Pacific, Maori and European cuisine.
Parking: Available at Boundary Rd entrance, $5 cash only.
Don't forget: Hat, sunscreen, umbrella, water bottle. Note: Only unopened drinks are allowed through gates.
Stages
Diversity: 66 groups. Starts today, 11am to tomorrow (Thur), 2.30pm. Sri Lankan, Japanese, Middle Eastern, Korean, Malaysian, Fijian, Indian/ Punjabi, Mongolian, Chinese, Tuvaluan, Thai, Filipino, South African, Hawaiian, Serbian.
Maori: 51 groups. Starts today, 10.30am to Saturday, 2.15pm.
Tongan: 33 groups. Starts Friday, 8.30am to Saturday, 3.20pm.
Samoan: 34 groups. Starts Friday, 8.15am to Saturday, 4.20pm.
Niuean: 20 groups. Starts Friday, 10.30am to Saturday, 3.40pm.
Cook Islands: 16 groups. Starts Friday, 9am to Saturday, 4pm.