This might be the only time Paul Casserly compares Native Affairs with The GC.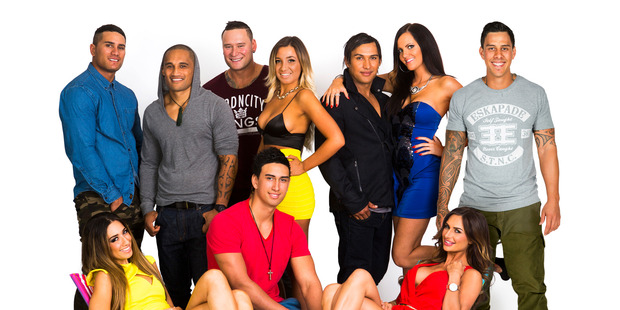 No one seems particularly worried about the big things on The GC (TV3, 8pm Mondays). Sure they obsess over singlets, hair, tattoos, and augmented breasts, but you don't hear them bleating on about issues. No one is obsessed about global warming.
Mind you, after reading the thoughts of James 'Gaia' Lovelock in The Guardian, perhaps they're on to something. He reckons that catastrophe is inevitable and suggests that the only people who are deluding themselves are the ones who think they can do something about it.
There's a distinct possibility that Tame's energy polices would make more sense than Russell Norman's. "Just don't worry about it neff," he might well say.
I may be reading too much into it, but The GC seems to accept something that I am coming to terms with. Worrying is just paying interest on a debt that may never be called.
And even if it is...
Still, as much I enjoy dabbling in the mindless antics of models who act as if they have suffered blunt force trauma, I'm inevitably drawn to the pointy heads who seem to worry about everything.
With that in mind, I tuned into Native Affairs, (Maori TV 8.30pm, Mondays) returning this week after the summer break, which its makers rightly divine to be the beginning of March. Why anyone in New Zealand does anything before the end of February is a mystery bordering on a disease. Something, that hopefully, will be cured one day, like Polio.
Native Affairs won a stripe of sorts last season when is showed it was capable of turning on its own people via an investigation into the Kohanga Reo National Trust Board, and some dubious credit card expenditure, including a Trelise Cooper dress.
The story earned the show enthusiastic high fives from Pakeha while being on the receiving end of a rather stinker buzz from some Maori, including Tariana Turia. Given the rough justice that has been meted out by the mainstream, who love nothing more than a 'native fingers in the till' sensation, it was a brave call. Harder even than Hosking or Henry turning on the National Party or say John Campbell having a go at environmentalists. For Maori, the world is way smaller, the connections more personal.
With Mihingarangi Forbes back at the helm, the team had landed what looked like a big story to launch the year with. It concerned the dumping of tonnes of perfectly good-looking fish by Countdown. The 'scandal' was unearthed by Kevin, a recreational fisherman who used the same waste facility in the Waikato, where he took pictures of bins full of fish. Reporter Billie Jo Hohepa-Ropiha obliged by setting the images to spooky environmentally unfriendly music. The scene thus set.
"How can you explain it? It's obscene," said Kevin, a likeable enough old rooster who likes to fish when he isn't running his own home-kill business. "These are isolated cases", said the man from Countdown. He was less likable, and helpfully casting himself as the villain by dressing like Walter White from Breaking Bad - in full meth-cooking garb.
From behind his plastic smock and from under his hair-net he said the amount they threw out was tiny, ".02per cent". He blamed the hot weather, "It's not unusual to see a spike at that time of year - if the fish is unsafe to eat we render it."
If fish goes off, they chuck it out and make it into fertilizer. Made perfect sense to me. Cue Shane Jones, who reckoned it was "absolutely repellent" while supermarkets are "pillaging and wasting fish".
The last word on the matter was left to a person who tweeted in to question how they could waste fish like that when "ppl are going hungry and aren't allowed to feed their families."
When Mihingarangi added, "and it's hard to accept when there are 270,000 children in this country who are living in poverty", I felt like I was "being manipulized", just like Rosanna Arkel, on The GC.